Business Management
Kevin McGibben (Global) - Penny for Prevention or a Pound for the Cure? Why Every Company Should Immunize their IT System.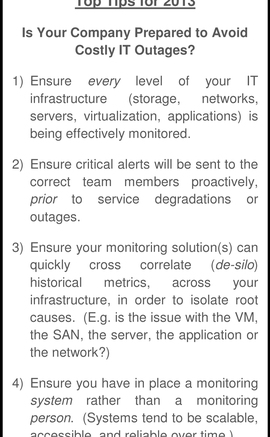 We buy insurance policies in our professional and personal lives to protect us in cases of disasters. Yet, companies across the country take an ostrich approach to a critical component of operations - the IT infrastructure.
Server outages can and do happen. The recent Amazon outage served as a real world reminder of the impact on operations and customer service when there is an IT outage. However, far too many companies take a reactive rather than proactive approach to monitoring their IT infrastructure. For those companies, providing a short-term cure appears easier than focusing on prevention.
IT is mission critical, and an outage can cost a company in multiple ways. In fact, according to Gartner the average cost of downtime for small to medium-sized business is approximately $42,000 per hour, and the average company has 14 hours of downtime per year. When assessing risk to your business (as well as the impact of service degradations, which are more common than actual downtime), is "no monitoring" really a viable option these days?
In today's complex IT environment, monitoring is a critical business function. More than managing uptime and end user satisfaction, monitoring can also be a game changing strategic tool when operations managers and C-levels have comprehensive visibility into their entire infrastructure. So why aren't more companies implementing monitoring tools?
IT professionals want monitoring tools but with limited resources and bandwidth, monitoring is not at the top of the priority list. Many traditional monitoring solutions require an exorbitant amount of time and/or money to implement. Additionally, monitoring tools often result in complaints about difficult to manage alerts, hard to access data and metrics that do not provide actionable operational or business intelligence.
In the past, installing, configuring and maintaining IT infrastructure monitoring tools was daunting, especially for businesses with a small IT staff. For each device in your network, you had to know:
• what needs to be monitored
• how to collect the right data
• how to display that data in a useful, visual form
• how to set alert thresholds
• how to setup alert escalation chains, and more
With teams already juggling critical IT operational issues, the requirements to put in place great monitoring made the pain more attractive than the cure. A monitoring system adds value only if the benefits of the system are greater than the acquisition, implementation and operational costs.
But SaaS-based IT infrastructure monitoring and alerting solutions have disrupted the monitoring paradigm, partly by eliminating the onerous requirements associated with premise-based and open-source tools. Cloud-based monitoring allows organizations to reap the benefits of monitoring - fewer outages and service degrading issues, reduction of staff time/cost to investigate and repair performance and availability issues, and improved information efficiency - without the challenges inherent in traditional solutions. Cloud-based monitoring alternatives dramatically reduce the complexity, staff time, and capital expenditures required to implement and maintain effective monitoring.
It is only a matter of time before something happens that wreaks havoc on your entire IT system. The price of waiting is too high in today's fiercely competitive environment. Cloud-based monitoring has finally made the cure much more accessible and cost effective than waiting to implement the cure. When it comes to your business, it may just be the best insurance policy you can invest in.
By Kevin McGibben, CEO, LogicMonitor