Internet
News Roundup: FB censorship, Digital Divides, and LingLong DingDong
A roundup of the week's tech news including AI predictions, Chimp VR, and connected horses.
Facebook's really bad idea for China
We all know China is a massive market, one many US and European tech companies can't touch for various reasons. Facebook, ever striving to conquer every corner of the world, reportedly has a new plan to get into the Middle Kingdom: let the government censor whatever it wants. According to the NYT, Mark Zuckerberg's company has "quietly developed software to suppress posts from appearing in people's news feeds in specific geographic areas".
Instead of blocking content after the fact, this tool would pre-emptively block certain types of content, all at the discretion of a third-party.
A FB spokesperson has since said that while the company is "interested in China," it has "not made any decision on our approach."
This is a bad idea. FB gets into enough trouble blocking content that violates its own random sense of morality, letting an authoritarian state block anything it wants is almost bordering on irresponsible.
Digital divide
While the likes of Facebook and Google might be trying to bring internet access to all corners of the globe via drones, balloons, and other projects, there's still a long way to go.
The end of 2016 will see 47% of the global population have access to the internet, according to a new report from the ITU. However, although access has tripled for some of the least developed countries, they are still far behind developed countries, and usually it is women, the elderly, less educated, poorer, and rural populations which are least likely to be connected. The report cited the high cost of extending into remote areas with little financial reward for telecoms providers as a reason for the lack of infrastructure.
"Internet penetration levels in LDCs (Least Developed Countries) today have reached the level enjoyed by developed countries in 1998, suggesting that the LDCs are lagging nearly 20 years behind the developed countries," the report said. The UN's goal is to reach 60% penetration by 2020.
AI, not about to destroy the world
Despite the fact artificial intelligence can almost create a new language for itself we shouldn't be too concerned about our new robot overlords, according to Stanford.
The university is two years into a 100-year study on AI – dubbed AI100 – to study and anticipate how the effects of AI will impact society. The study's latest report suggests we should all calm down about the end of humanity at the hands of a computer system.
"Contrary to the more fantastic predictions for AI in the popular press, the Study Panel found no cause for concern that AI is an imminent threat to humankind," it reads. "No machines with self-sustaining long-term goals and intent have been developed, nor are they likely to be developed in the near future."
"Instead, increasingly useful applications of AI, with potentially profound positive impacts on our society and economy are likely to emerge between now and 2030, the period this report considers."
So everyone just chill out, ok?
M&A
Symantec has acquired LifeLock, Oracle has snapped up Dyn, Google now owns QwikLabs, Telstra has purchased Cognevo , and MACOM has got its hands on AppliedMicro.
In other news, Alibaba's cloud division has announced it is expanding into four new markets: Germany, Australia, Tokyo and Dubai. Should Amazon Web Services (and all the other providers that aren't even close to competing) be worried?
NSA
- The UK "Snooper's Charter" is almost certainly going to become law, and that's not ok.
- But GCHQ may have to start responding to Freedom of Information requests, at least while the UK is still part of the European Union.
- Germany's Justice Minister says Facebook should be treated like a media company.
- The IRS wants a record of all US Coinbase users, presumably so they can tax those Bitcoins people have been hiding away.
- President Obama says he can't pardon Ed Snowden.
- A Russian official says the Kremlin is unhackable.
- Some scientists have developed a way to turn headphones into secret recording devices.
- Poor protection of data by companies means people's trust in the web is very low at the mo.
Microsoft + Women
Microsoft this week released it latest diversity figures. And things have got worse. There was a 1% decrease in the number of women at the company – from 26.8% to 25.8% - due, according to a follow-up blog post, to the closure of various factories and the company's phone units. Representation of non-white workers increased very slightly.
Dorsey done over
First we had Facebook (last mention, honest) accidently 'kills' Mark Zuckerberg, now Twitter somehow manages to block its founder Jack Dorsey. He took it in good faith and harked back to the first ever tweet once he was back online. "just setting up my twttr...again (account suspension was an internal mistake)", he wrote.
What next, Tom moved off of MySpace?
New stuff
A couple of big announcements from crowdfunding platform IndieGoGo recently. Not only has IGG launched its own equity crowdfunding service – thereby replacing rewards for a stake within companies – but also moved into eCommerce and now offers companies the option to simply sell products directly on the platform, no fundraising necessary.
Privacy-focused WhatsApp rival Telegram is adding a new string to its bow and getting into the world of content. The new service, Telegraph, is a super simple Medium-like platform, but every post is essentially a one-time thing: every post is given a Telegr.ph URL and can't be catalogued. While it suits Telegram's pro-privacy ethos, it does seem something that could potentially be used to promote abuse. But we'll hope for the best.
Google Home and Amazon Alexa have some new competition. Unfortunately, however, it's the name of the device that's causing the headlines. The Chinese-made LingLong DingDong is a low-cost voice-assistant device from LingLong and JD.com, and comes in variations designed to understand Mandarin or Cantonese.
Car stuff
Jaguar has filed a new patent that combines facial and gait recognition to unlock your cars. Sounds like a great way to make someone very aware of their own walk: "If there's too much or too little swagger in my walk, I can't open my car…"
Meanwhile, UK car insurers are asking for driverless car data, specifically data 30 seconds before and 15 seconds after any incident – to be handed over so they can process claims in the future. However, since there's no standardised set of metrics or data generated or collected by these kinds of vehicles, I imagine the insurers would have a hard time processing everything.
Sad stats for the week
Nearly 40% of Americans would apparently give up sex for a year if it meant they could avoid worrying about being hacked for a year.
There were at least 73 deaths in the first eight months of 2016 resulting from injuries while taking selfies. That's up from 38 the year before and 15 in 2014.
Selfies, while you drink!
'Every company is a technology company now'. It's an adage you often hear at tech conferences. But is every company now a self-pushing marketing promotor? Seems so.
Coca-Cola Israel came up with the kind of selfie gizmo that almost makes those sticks look palatable: a camera that attaches to your bottles and takes pics of you while you drink. Luckily it seems to be a limited local promotional run, so won't become a staple of bars near us any time soon.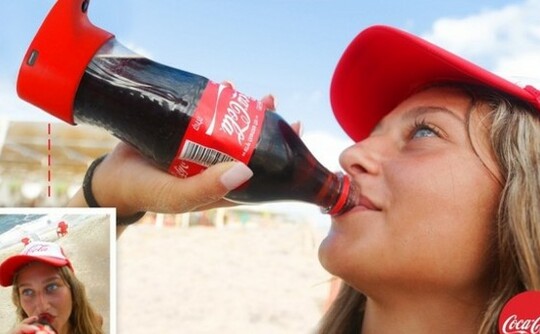 Thanksdroning
Happy Thanksgiving folks. And remember, drones might be cool, but they're not good for cooking food yet.
Hedgehog authentication & Connected Horses
Biometrics are quickly becoming the de facto way of logging into devices. And there's no reason this trend can't extend to animals too. Someone set up their iPhone's fingerprint scanner to recognise that of their little hedgehog, Sashimi. Awwwww.
And on a related animal note, did you know a connected cow transmits approximately 200 MB of data per year? Agri-tech is a big deal and making cows more efficient is a big part of that. But the IoT isn't just for the realm of the bovine. Even our equestrian friends are getting in on the action. The Equisense Care is a Fitbit for your horse – currently on Kickstarter – that allows you to track your pony's heart, breathing, perspiration and sleeping stats.
Chimp VR
The world is scary and confusing place these days. So to cheer everyone up, here's a GIF of a chimpanzee using a HTC Vive.