Internet
Dan Swinhoe (South America) - The Digital Divide And Its Impact In Latin America
In the run up to Christmas, you might be thinking whether you'll be getting an iPad, Kindle, Wii or any number of other gizmos and gadgets, the majority of which rely on the internet to connect you to the rest of the world. But spare a thought for those who don't have access to the World Wide Web. UN figures estimate nearly 50% of the world's people still have limited or no access to a computer.
The digital divide has been an issue as long as digital has been a mass commodity. The haves with the latest gizmos and the benefits they can bring, and the have-nots living in the digital dark-ages. A problem prevalent in emerging markets such as Africa and Latin America; it's often a problem that defines the difference between the urban and rural populations.
This year's Global Information Technology Report, which looks at IT adoption across the world, takes a dim view of LatAm. "Latin America and the Caribbean continue to suffer from an important lag in adopting ICT and technology more broadly," it says. "This is reflected in the rankings, as no country manages to reach the top 30 and only a handful of small economies manage to be included among the top 50."
"Although the region is vast and heterogeneous, three shared reasons for this lag can be identified: these countries all exhibit an insufficient investment in developing their ICT infrastructure, a weak skill base in the population because of poor educational systems that hinder society's capacity to make an effective use of these technologies, and unfavourable business conditions that do not support the spur of entrepreneurship and innovation."
For example, in Mexico, the capital may have the latest infrastructure and technology, but according to the Mexican Internet Association (AMIPCI), about 82 million people - 70% of Mexicans - have no access to a computer or the Internet. Considering its proximity to the super-connected US it's surprising that Mexico is behind Colombia, Brazil, Venezuela, Chile and Argentina in Internet access.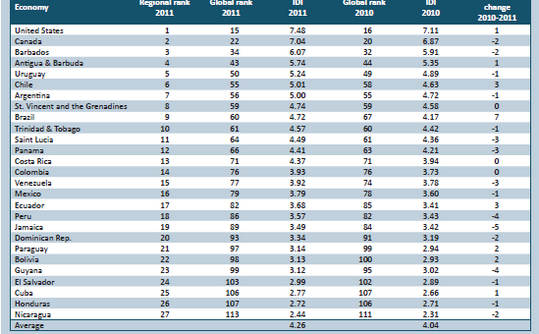 While things have improved recently, in 2010 just 35% of households had a computer, with the rich over five times more likely to be owners than the poor. And half of those who don't have the Internet cite money as a major reason. A report by the Economic Commission on Latin America and the Caribbean found that nearly 60% of urban 15-year-olds in Mexico had access to a computer in 2009, compared to just over 20% of rural students.
The size of the digital divide varies wildly across the region, but most countries are making an effort to reduce it. Internet cafes, government projects, and NGOs are all helping. For example, Brazil has launched a new program to bring low-cost Internet service to 70% of the country's households by 2014, while Panama's government uses free internet initiatives to get as many people as possible online. The UN is also helping with lessons for rural women as an empowerment tool. Programs to give one notebook per child have been introduced in Chile, Uruguay and Argentina, resulting in almost 2 million being given away. Even BT is helping in Colombia with its own projects.

Global Map of Digital Access [Source- Digital Access Index (DAI)]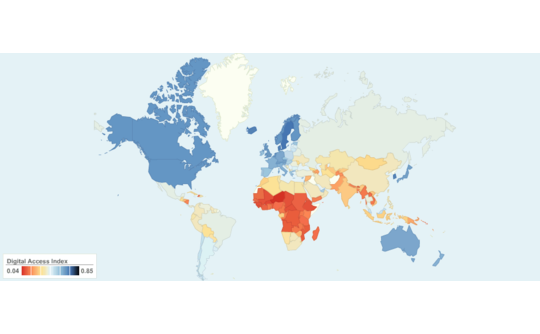 In the Measuring the Information Society report which ranks countries' performances with regard to ICT infrastructure and uptake, and the affordability of ICT services, LatAm is in danger of taking a step backwards. While some countries such as Brazil made big leaps forward, gaining seven places, many stayed the same or moved down in the rankings. While penetration levels and some costs (though not all) are down on last year, things aren't moving as quickly as they should be. Bolivia's broadband remain the slowest and most costly in the region - keeping adoption levels extremely low.
Recently, a study by the CCi that looked at the use of Internet in Australia, New Zealand, Sweden, Switzerland, Mexico, Spain Poland and the UK, found Mexicans were the least likely to shop, gamble or look at sexual content online. That Mexico has the lowest level of internet penetration, digital literacy and poorest population out of those in the study isn't a coincidence. There may be other reasons, but when Chile is being lauded for online participation the fact that it's internet penetration is much higher becomes glaringly obvious.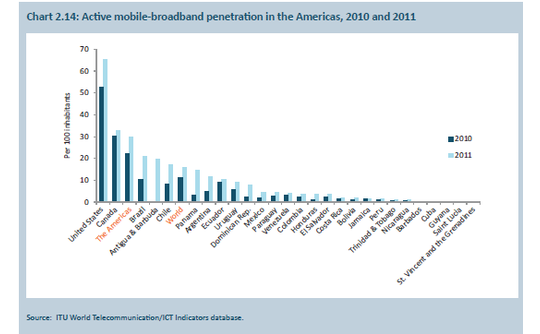 It's not just spending money online that gets left by the wayside in the digital divide. Education can suffer, not to mention democracy itself. E-Government is the future of democracy, whether it's connecting to political figures through Twitter or accessing services in the same vein as the UK's YouGov site, technology is a powerful tool in politics. Again it's Chile that scores highest in the region.
Each county within the region is at different stages - bigger economies like Brazil and Argentina are leading and even making way for newer technologies such as 4G, while others are still introducing the Internet on a wider scale. Some smaller countries are making progress, such as Peru, while others, such as Belize, are disappointing.
Reducing the divide may seem like a huge project, but the benefits make it more expensive not to in the long run. Better access enables remote learning, which in turn improves education and literacy levels, which turn improves the quality of life for people, which helps the government. Things are, and will continue to improve. With Latin America's strong and growing economy, it makes sense that it's in everyone's best interest to make best use of a country's most valuable assets - its people. And the better connected they are, the better they can help in return.
By Dan Swinhoe, Editorial Assistant, IDG Connect
What are your thoughts? Do you feel the Digital Divide across Latin America is getting better or worse? Take our survey now and let us know.