Do IT Professionals Really Love Sci-Fi?
The internet is littered with spurious judgements about what people's favourite books reveal about them. Famous or successful people are often asked this question and conclusions are drawn from the answer. What can we make of the fact that Bill Gates' favourite is 'Catcher in the Rye', or that Steve Jobs selected 'Moby Dick' as his favourite work of fiction? On top of which, what can we learn from the preferences of whole industries?
In April 2003 the BBC launched 'The Big Read' a nationwide search for the UK's favourite book. Three quarters of a million votes later the top book selected was Lord of the Rings with Pride and Prejudice coming in second place. Interestingly, our community of global IT and business professionals (based on a sample of 727 professionals) loosely mirror these findings. More people selected Lord of the Rings than any other single book and Jane Austen (specifically Pride and Prejudice) was most chosen within the classic fiction category.
In terms of personal 'entertainment' reading choices, our audience revealed some pretty diverse favourites. Overall there was an almost 50/50 split between fact and fiction, but when we analysed the results to: "what is your favourite book (magazine or newspaper)?" we discovered that whilst favourites did emerge, respondents actually chose a wide variety of single books and magazines. There were no high volumes of any individual works.
Lord of the Rings was the book selected most with 14 votes. Songs of Ice and Fire came in second with 11 votes. The most popular author, which could be loosely categorised as classic fiction, was Jane Austen with six votes. 15% overall selected Business/ IT focused magazines as their favourite reading material for entertainment. The Economist was the most popular publication with 28 votes, whilst Wired came in second with 16. 13 people opted for the Bible and aside for one vote for the Koran, no other religious books were mentioned.
Other selections with multiple votes were: The New York Times (13), Wall Street Journal (9), Bloomberg (8- mostly specific mentions for Business Week), Atlas Shrugged (5), Readers' Digest (5), Sci fi generally (8) and Hitchhiker's Guide (3).
The 727 respondents were broken down as follows:
35% North America
21% Europe
16% Asia
13% South/ Latin America
7% Australia
5% Africa
3% Middle East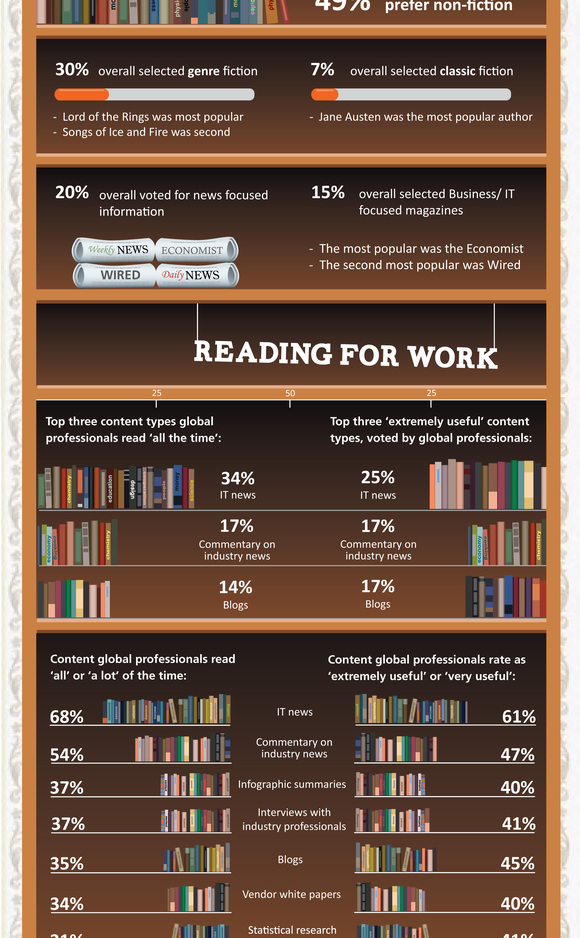 Contact Kathryn Cave, Editor at IDG Connect, for more details.
Read information for marketers.
View the full infographic.