Internet
Smart cities need to be about people but also data, replicable but also bespoke
What makes a smart city smart? Is it having Open Data? Is it smart parking bays? Smart lighting? Having its government services online? All of the above? None?
There are over 100 definitions of what makes a "smart city" according to Karl-Filip Coenegracht, Chief Strategy Officer at the City of Ghent, speaking at the Smart to Future Cities event. There is no such thing as a one size-fits all definition because each city is different, each with their own specific needs, and priorities.
But the most important aspect to remember is that any smart city project should be about the people – Coenegracht calls them smart citizens – and less about the technology. This sentiment is echoed by all of the speakers.
"Smart cities are about people – the idea is to never see the technology," says Nick Chrissos, Head of Innovation Technology for UK and Ireland at Cisco.
"Focusing on citizens is key," adds Tim Gregson of Microsoft.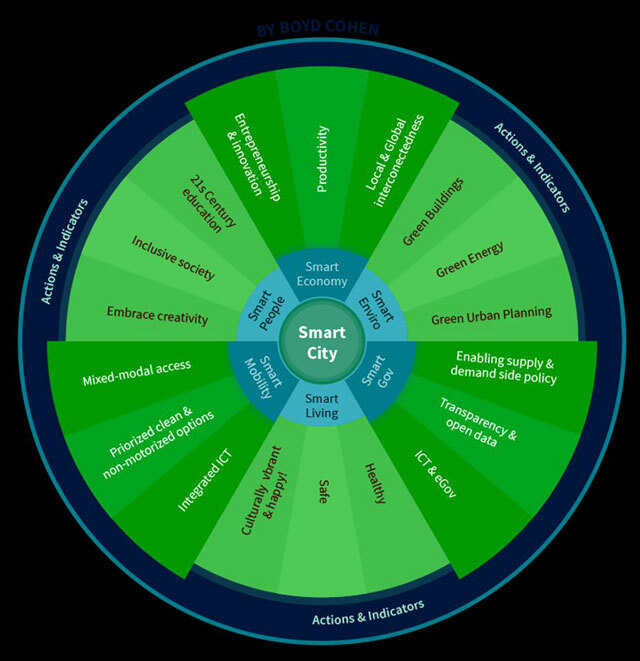 If serving citizens is the imperative, data is the key
A big theme throughout the day is the power of data in Smart cities – however you define them.
Data, when collected and shared properly, can create opportunities, services, and insights that can solve any number of problems. Joining up siloed data, however, can often be the biggest challenge. But when it works, there can be some incredibly interesting uses.
The scale can range from changing traffic patterns to ease congestion while at the same time monitoring how this affects pollution, to an example in London where joining data from procurement and social services identified a victim of domestic abuse after their council flat door was replaced three times in a short period after it had been kicked down by their partner.
Transport for London and London itself have received praise for being early leaders in the Open Data movement.
"It was a very brave decision that didn't get the recognition that it deserved," Andrew Till, Vice President, Technology, Partnerships & New Solutions at Harman Connected Services, says during an interview with IDG Connect at the event. "They were one of the first cities in the world that took the idea of open data as a philosophy and started to really enact it."
Just opening up date data or having smart parking spaces and smart lights is one thing, but having them being able to work in tandem is where the real value could be added.
"What is now really exciting is to push on to the next level and say rather than it being TFL data, how can they bring in other organisations to share data so that you can start creating deeper insight."
One example could be a bus stop being able to tell when a person is waiting for a bus, being able to tell them not only when the next bus is due, but provide information about walking to the next bus stop if there are delays, or offering a discount to walk to the next bus stop – via the least polluted route - if the city in question is pushing for a healthier populace.
"What we're looking at is not only this new technology being added but the whole principle is you're constantly learning, you're constantly evolving, and defining new insights, and then using those insights to change behaviour."
Scalability still out of reach for many projects
For government – and especially IT teams within governments – these concepts can be a challenge to embrace.
"If you're not actively planning for continual change and improvement, don't deploy it. This is very, very different as a mindset to traditional IT, which is keep it stable, keep it running," says Harman's Till.
"You've got this challenge where cities end up doing projects in silos because they can get a few people together and then go do something. But then they find that something that works in one district for 5,000 people they can't scale to 15 districts or 200,000 people."
"It's understanding intent from consequence, and the challenge that people are going to find is that no two cities are the same."
It's this series of silos – whether it's data silos within one city's departments or cities doing whole projects without looking to their neighbouring metropolises for help – which is one of the big challenges in creating long-lasting and meaningful impact.
"You can plonk an AWS or Azure in a 'smart city', but the needs of one city are very different from another," warns Keith Dickerson, ESTI. Replicability or solutions and practice is important, but so is being able to tailor the blueprint for each city's unique needs, all while avoiding vendor lock-in.
Cisco's Chrissos says that too many cities "bring a cluster of solutions together and call it a smart city" rather than creating something wide-reaching and repeatable.
Too often initiatives are made as ad hoc projects that are not only unscalable but not even particularly long-lived after the pilot, as well as difficult to replicate, because cities haven't thought ahead. Of all the smart city projects he's encountered, Chrissos he says he is yet to see a neighbouring city say "I want exactly that", which he claims would be the mark of a successful project.
Also read:
Smart Kigali: An IoT project to transform Rwanda
What can other cities learn from Singapore's extensive tech initiatives?
Nokia helps advance Bristol's smart city test bed
Smart cities and the internet of (connected) things
Can South Africa deliver on its smart city dreams?