Business Technology Optimization
Retail Tech Expo: Two holidays and Tesco shopping in Virtual Reality
Virtual Reality is continuing to excite and retailers see a huge opportunity. At the Retail Business Technology Expo in London I came across developers that are keen to use Virtual Reality to create personalised experiences for customers.
Below are some of my observations from day one of the event.
I took a trip to New York and Singapore in VR
I have tried the Samsung Gear headset a few times now. Last time I tried out the public speaking tool and fire escape training exercises. This time at the Samsung stand I was asked whether I wanted a short holiday in New York. I had about 20 minutes to spare, so sure why not? I put the headset on then I was on a helicopter going over New York's skyline. In reality I have been New York before - and I have to say the virtual version is pretty impressive. The VR experience took me to the main sights like central park and ground zero. In Singapore I saw food markets, a botanical garden and walked over a bridge. The strange thing was I could see people walking really closely behind me.
Even though the headset has a focus function for picture quality, it's clear that this still needs to improve. Once it does, the whole experience will be far more enjoyable.
Watching a rugby training video in a cinema
I found myself sitting in a cinema watching rugby players going through training. But that wasn't the freaky part (although I would have personally preferred to have watched something else). The freaky part though was when I turned around and could see my cinema seat right behind me and the arm rests next to me. The strange disconnect between seeing the arm rests but having my arms go right through it was disconcerting and hard for my brain to get around.
Strange Halo game character showing off in shop window
As I was walking around the exhibition, a character I recognised from the game Halo caught my eye on a massive screen. He was busy moving around with a massive gun doing different poses. What was all this about? I spoke with Richard Corps from an Augmented Reality specialist agency called Ads Reality who explained how they have partnered with retailer Game to put these screens up to attract users in the store. "Consumers can even link to the screen with their phones and interact with it," Corps told me. It grabbed my attention and I can see this being a fun thing to stop customers in their tracks.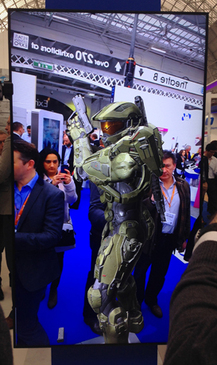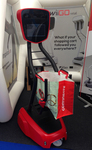 Shopping cart that follows you around the store
Follow Inspiration is a Portuguese company that has developed a shopping cart that follows you around the store. What was the inspiration behind this? "The CEO of the company has been in a wheelchair since he was 14 so that was the inspiration behind this. The idea is to help people in wheelchairs around the store," Ricardo Silva, CMO at the stand tells me. Silva says that they have developed the prototype and now are hoping to get some retailers in the UK on board.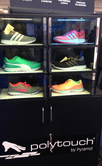 Customised vending machines for 24/7 purchases
A developer called Pyramid has developed customisable vending modules geared for hotels, airports, and train stations to increase sales out of hours and make it more convenient for shoppers. At the exhibition, it was showcasing trainers. But Alexis Lipoff, a PR representative from 3WM Communications tells me that any retail item can be placed in these vending machines. "They also have a camera embedded inside the locker, so if someone tries to swap their shoes for the new ones, we can track them through their card details," Lipoff explains.
A virtual walk-through Tesco with Oculus Rift
As I have used the Samsung Gear headset a few times, and got an opportunity to have a play with HTC Vive, I was pretty keen to get my hands on the Oculus Rift to see how it compared. Kantar Retail have developed a demo for a personalised in-store shopping experience. The idea is for customers to put the Oculus Rift on at home and then do a virtual walk-through a retail store, browsing aisles and picking up objects just like they would in real-life. Adam Kujat at Kantar Retail tells me that retailers will also be able to track how users use the store so they can store data on browsing habits.
I got to try it out and as expected, the picture quality of the Rift was a bit blurry so the technology still needs to improve. I started out in an empty Tesco car park and then soon I was walking pretty fast towards the store and then browsing the aisles. The various items in the aisles hovered up-close in-front of me. Again, the perceived notion of moving but not really moving was disorienting and I knew instinctively that I couldn't use this for very long.
But I have noticed that as I've used these Virtual Reality headsets, the nausea and disorientation has gone down noticeably from how bad it was before. Am I becoming more tolerant and are changes happening within me? I'm not sure, but that's technology for you.
See also
Future of retail: AI, real-time personalisation & visual cues
Virtual Reality 2016: Hyped but needing a dose of calm
Google's Tilt Brush: Finally, a magical VR experience
Beyond marketing & gaming: 6 professional uses for Virtual Reality
VR vs. 360-degree video: When YouTube moves immersive to 'live'
Virtual Reality (part 1): Where we stand in 2015
Virtual Reality (part 2): Where is it heading?
An excited IDG Connect team plays with a Cardboard VR headset