Business Management
Are we overdue a Bitcoin Unicorn?
After a year of relative quiet and slow decline, Bitcoin is having a mini-renascence. The trading price of the premier cryptocurrency is now around $450, the highest it's been since August of last year.
Much of this is no doubt due to the recent "unmasking" of the technology's founder Satoshi Nakamoto, but there are other factors at play. Microsoft has launched what is essentially Blockchain as a Service after its partnership with Ethereum, while IBM has launched its own variation – both moves show that the mainstream is waking up to the potential of the underlying technology behind Bitcoin. Meanwhile, companies such as Visa are working on their own Bitcoin apps and, perhaps most importantly, financial organisations, regulators and analysts are, at the very least, warming to the idea of digital currencies and the Blockchain.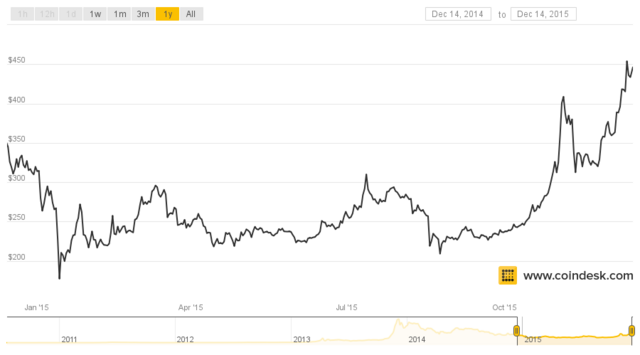 Is the time now right for a "Bitcoin Unicorn"? We'll see five of them in 2016, according to technology M&A specialists Magister Advisors [MA]. "This is the territory of thoroughbreds and workhorses, not Unicorns," Jeremy Millar, partner at Magister Advisors, said in a statement. "These new companies will have real lasting value; they're not creatures from a fairy tale that will fade away when their valuations, which are based, appropriately enough, on leaps of the imagination, drop."
The company's Bitcoin & Blockchain In 2016: A Survey Of Global Leaders claims that large financial institutions alone will spend over $1 billion investing in Blockchain technology over the next two years, more than double the spending over the previous three. The arrival of five "Bitcoin thoroughbreds" [which should surely be called "Cryptocorns"] is in stark contrast to the company's wider predictions for the tech industry in 2016, which says there are tough times ahead and at least one or two unicorns will "blow up" in the coming year.
Though they may be intertwined, it's no secret that many see the Blockchain as the greater of the two technologies. While Bitcoin may be a disruptive currency, the underlying fabric of the Blockchain could change how online records are kept across the financial industry and beyond. And it's because of that potential – and despite the regular stream of naysayers – it's hard to argue with MA's prediction. Five might be excessive, but it's difficult not to see at least one Blockchain startup join the ten digit club in the next 12 months.