Internet
News roundup: A Digital Geneva Convention, the new new graphene, and 3310 nostalgia
A roundup of the week's tech news including good guy Sundar, President Bezos, and NSFW tech Valentines.
A Digital Geneva Convention
We're now living in the age of the cyberwar. Everyone is hacking everyone, pointing fingers, and generally not knowing what is going on. It's a mess. To fix this, argues Microsoft, we need cyber rules of engagement.
"Just as the Fourth Geneva Convention has long protected civilians in times of war, we now need a Digital Geneva Convention that will commit governments to protecting civilians from nation-state attacks in times of peace," said Brad Smith, Microsoft President and Chief Legal Officer in blog post this week (as well as in a presentation as RSA). "And just as the Fourth Geneva Convention recognized that the protection of civilians required the active involvement of the Red Cross, protection against nation-state cyberattacks requires the active assistance of technology companies."
The six-point convention would make tech companies, the private sector and critical infrastructure off limits, call for "restraint in developing cyber weapons", a commitment to non-proliferation of said cyber weapons, greater collaboration and reporting of vulnerabilities.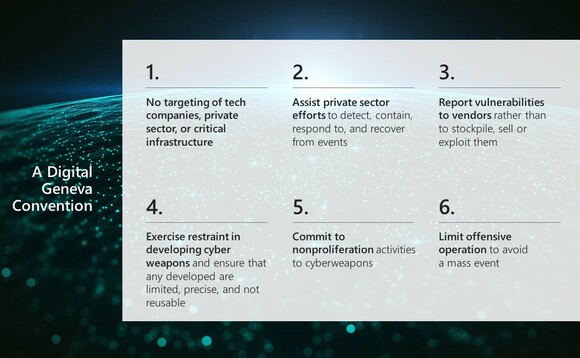 Smith wasn't the only person to call for more digital agreements recently:
Scott Shackelford, Associate Professor of Business Law and Ethics, Indiana University, called for cybersecurity to be recognized as a human right in order to "help ensure some measure of cyber peace online".
Bioethicist David Martin Shaw suggested that as well as organ donation, people should be willing to donate their medical data after they die in order to better fuel medical research.
Last September during a TED talk, author Sam Harris "A Manhattan Project on the topic of artificial intelligence" in order to better understand the potential dangers of AI.
The new, new, new graphene
In the search for new super materials we've had Graphene, Stanene, Silicene, Germanene, White Graphene, Phosphorene, and others. Researchers at Rice University suggest one-dimensional layers of boron atoms may have similar conductive properties as well as lots of other quirks due the fact it can be used in single or double-atom chains.
In other future tech news, IBM has reportedly defied physics to create a triangular molecule previously thought impossible to create. IBM's researchers believe this 'triangulene' molecule could be used to power quantum computers due to its magnetic properties.
Nokia goes for your nostalgia
The Nokia 3310 is iconic. But do we need it in 2017? I would say not. According to VentureBeat, however, that's exactly what we're getting. As well as some midrange smartphones, Nokia-brand rights owner HMD will be releasing a $60 'homage' to the 3310. Thinking about it, Snake was fun and I did enjoy making up my own ringtone melodies…
Not so Magic
Is it all going wrong at Magic Leap, the incredibly well-funded but secretive Augmented Reality startup hoping to outdo HoloLens, Meta, and all other AR companies? Business Insider leaked an image which it claimed to be a working prototype of Magic Leap, which was all-wires and circuitry and far off anything even close to a commercial product.
Magic Leap CEO Abovitz responded on Twitter saying the image "is NOT what you think it is" but merely an R&D test rig to collect data.
A follow up piece on ReCode, however suggests some investors are worried and feel the company is "doing 1,000 things badly".
President Bezos? Nope.
Will we see President Bezos in the near future? Apparently not. When asked about his political ambitions by Billboard he simply replied; "Oh, no. I don't think so." He then refused to comment on how he felt about Donald Trump as President. Probably to avoid any new Twitter spats.
The company continues to be ambitious with some of its patent ideas. The latest innovation from Bezos & Co is parachutes for parcels that drop from the sky. Rather than waste time with anything as silly as landing pads for drones in gardens, Amazon plans to "deploy packages at altitude" which open a 'chute, then have the drone watch the package land safely.
AWS launched a new thing this week. As it does pretty much every week. But Chime is slightly outside the Cloud company's usual remit; it's a new unified communications service designed to compete with the likes of Skype, Google Hangouts, GoToMeeting, and Cisco's WebEx. Amazon promise "high-quality video, voice, chat and screen sharing."
Remote stress
On the subject of remote communication and work; it's apparently very stressful. According to a UN study, working from home more increases stress levels due to "an overlap between paid work and personal life". 41% of highly-mobile employees say they felt some degree of stress, compared to 25% of office workers.
The report did find some positives, and claims "modern communication technologies facilitates a better overall work-life balance". The study's co-author Jon Messenger said two or three days a week is the "sweet spot" that prevents too much stress or isolation.
Driverless news
Subaru has become the latest car company to begin testing its driverless car tech on the streets of California. The Japanese automaker joins 22 other companies testing their wares in the state, and has had driver-assist controls in its vehicles for a couple of years now.
Ford is to invest a cool $1 billion in artificial intelligence startup Argo AI, a startup founded by former Google-and-Uberers Bryan Salesky and Peter Rander.
It's not always practical to train your AI systems out in the real world – especially if you're Uber – but luckily it's possible to train computers within virtual environments. Scientists have already been using GTA5 to train driverless cars, but now Microsoft has developed and open sourced its own simulation tool for autonomous systems. Called Aerial Informatics and Robotics Platform (aka AirSim), the software will generate random environments and let you test your models as required. Perhaps not as fun as GTA, but still useful.
Stats
While companies have far more awareness of GDPR than they used to, 26% of marketers believe that their companies are unprepared for its introduction, according to the DMA.
Trend Micro has found that smaller cities have more exposed vulnerable devices than their larger counterparts in the US.
Hypergrid filed a Freedom of Information request and found half of London's boroughs are currently planning an infrastructure refresh project, with 20% currently rolling out a refresh.
M&A
Baidu has acquired voice-assistant startup Raven Tech, Verizon now owns drone fleet management service Skyward, F-Secure has bought IoT security firm Inverse Path, and Cliqz has purchased browser privacy extension Ghostery.
Good guy Sundar
In the pure feel-good fluff news this week, Google CEO Sundar Pichai sends nice replies to children that write him letters. 7-year-old Chloe Bridgewater from Hereford, England handwrote a letter to "Mr. google boss" asking for a job at Google (she also wanted a job at a chocolate factory and to swim in the Olympics) when she is older. Good guy Sundar replied telling Chloe to "keep working hard and following your dreams" so she can "accomplish anything you set your mind to". Chloe's father Andy said in a LinkedIn Post his daughter was delighted and now even more eager to do well at school as a result.
Techy Valentines
Valentine's Day was this week. And tech seems to be enabling us to take romance to new levels. Last year one exec said up to 5% of requests made to voice assistants were of the NSFW variety. This year analytics platform Dashbot is claiming around 2.5% of images sent to chatbots are equally unsavoury.
AI sales assistant provider Conversica also detailed some of the "flirty" things people will say to automated assistants. These include "you got a boyfriend..you wanna go outt sometime.", "You sound cute you got a picture.", and, of course, "I think I love you." Guys, stop.