Business Management
Salesforce's long boom makes it cloud apps distance leader
Salesforce.com is one of the great growth stories of modern IT. Slightly obscured by the light cast on consumer internet giants, only VMware and AWS can compare to its impact as a modern B2B technology force.
The San Francisco CRM firm is on target to be an $8bn revenue company in this financial year after posting over $1.9bn for its first quarter of fiscal 2017 yesterday. Just as remarkable, Salesforce revenue was up sharply year on year to 28 per cent despite the company having been founded only in 1999 and gone public as far back as 2004 with an IPO that valued the company at $1.1bn. A decent investment for some: today the company has a market cap of over $52bn.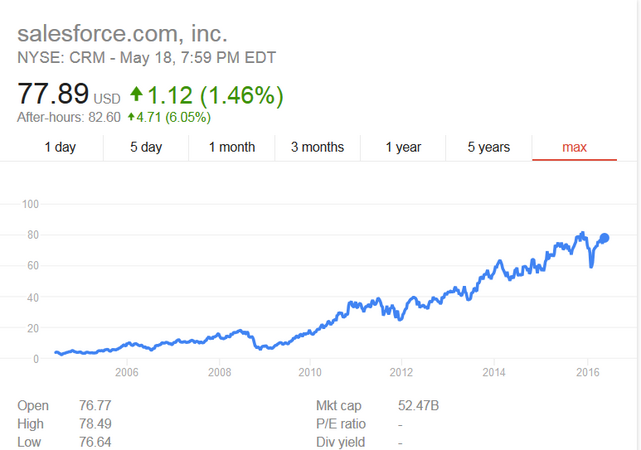 Salesforce has had to answer a lot of questions since it was founded in 1999. But it validated the cloud model, reinvented CRM, created a broader suite of applications, a platform and ecosystem, and all the while maintained an excellent relationship with customers.
Despite the usual marketing wars, the other cloud application companies are all indebted to Salesforce for acting as the north star of the 'as a service' movement, and even the most successful remain relative minnows when compared. NetSuite today has a valuation of $6.1bn and Workday $14.1bn.
Blips? Salesforce has certainly had a few. At certain points doubts have been raised about service interruptions, data residency and sovereignty, geographical focus and more. But really, the company has gracefully glided to its current eminence.
Having moved on from a flirtation with Microsoft, Salesforce is well positioned to advance beyond the $10bn revenue mark well before its 20th anniversary. It would appear that CEO Marc Benioff's ambition is simply to build one of the world's greatest companies and it's easy to imagine Salesforce becoming a case study in business schools around the world.
It's a remarkable story that perhaps would be told more often were it not for the company's seemingly inexorable progress.
Related reading:
Salesforce dreams of superstar status
Cloud computing is 15 years old
Bluewolf sees pack of prospects in Salesforce consulting