Energy Efficiency
Ayesha Salim (US) - Electronic Health Records: Heading for Disaster
Electronic Health Records are a dream come true. Gone are those rubbish days of endless time wasting trying to decipher some physician's poor handwriting, or rummaging through hundreds of files trying to find that one patient file you know was there yesterday. Now with just one click of a button you have everything available to you. Patient medical history, legible writing...it is all there.
Sounds perfect right? Except that it's not. Although this is the vision that President Obama painted beautifully in his inaugural address back in 2009, the reality is far from simple. Hospital adoption of electronic health records (EHR) systems has more than tripled since 2009. But as the states that are lagging behind race ahead to catch up, there is a danger that vital things could be missed and the quality of healthcare could be compromised as a result.
The concept was simple. The Health Information Technology for Economic and Clinical Health (HITECH Act), in an economic stimulus package, set in motion a nationwide migration to electronic health records. American health care needed an overhaul; it could no longer handle the inefficiencies that came with paper record-keeping. So the government set a timeline: Doctors and hospitals to move away from paper records by 2015. The main objectives? To raise healthcare quality and lower its costs. Furthermore, electronic health records would put the power in the patient's hands. Patients will be able to actively participate their own healthcare by updating their electronic health records. We are already seeing growth this way with the commercialization of healthcare apps, where patients can monitor their health on their own time.
The government has also given further incentives for physicians to push ahead with migrating. Doctors who use EHRs in a meaningful way are eligible for a $44,000 bonus. 'Meaningful use' includes prescribing information, drug-to-drug interactions and drug allergy checking; the maintenance of a health problem; medication lists, and allergy lists. But so far, only one in six doctors have adopted EHRs significantly enough to qualify for the bonus. Furthermore, doctors who aren't on board by the 2015 deadline with be subject to government penalties.
As we have seen, hospitals and doctors are under immense pressure to reach the 2015 deadline. The graph below shows how hospital adoption of EHR systems has more than tripled since 2009, increasing from 12% to 44%.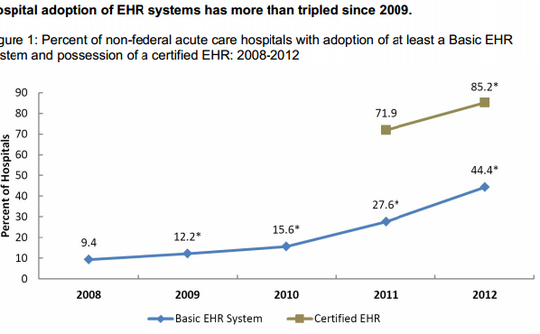 Hospital adoption of EHR systems varied quite considerably by state. South Dakota (71%), Rhode Island (69%), and Colorado (68%) had the highest percent of hospitals with adoption of at least a Basic EHR system. New Hampshire (21%), New Mexico (26%), and Kansas (26%) had the lowest percent of hospitals with adoption of at least a Basic EHR system.
Many hospitals have made the transition to EHRs successfully and seem to be progressing well. Nonetheless there have been a number of reports detailing the problems practitioners have been facing in adopting the systems. Not every doctor is embracing this new change. Some have complained that it slows them down and makes it harder to interact effectively with patients - because they are stuck typing on keyboards and staring at screens. Kind of defeats the whole purpose doesn't it?
The lack of interoperability is also a huge problem. In a rush to get ahead, many healthcare providers bought and managed their own systems rather than attempting to coordinate. My fear is that we will face the backlash of this later. Even more worrying, we don't know the level of harm EHRs can cause - or are causing. A critic of EHRs, Silverstein, argues that many EHR-related mistakes might go unreported because the government does not require providers to report such problems.
Healthcare professionals have also not given any positive feedback of EHRs in recent times. According to a recent report, satisfaction and usability ratings for EHRs have decreased since 2010 among clinicians across a range of indicators.
The allure of the bonus check is pushing physicians too quickly with their transitions from paper. Because of the introduction of the meaningful use incentive program, which went into effect in 2011, EHR adoption rates are moving more quickly than data collection can keep pace. In Michigan, as of Dec. 31, 2012, 63% of those eligible for the Medicare bonus and 37% of those eligible for the Medicaid bonus had received checks. Experts believe they show how quickly primary care doctors have adopted EHRs since 2011.
Several medical organizations, including the American Medical Association, have argued that stage three of the meaningful use program is asking for too much too soon, and the systems may not even be ready to deliver. There is a worry about physicians moving 'full speed ahead' when many barriers have not been addressed. According to James L.Madara, MD, many systems still have usability issues.
Very recently, Boulder Community Hospital in Colorado had its Meditech EHR system go down - preventing staff from accessing any electronic records. Chaos ensued - patients were left unhappy and pushed-off appointments as staff tried to go back to using paper without any warning. Boulder Community is supposed to be an EHR success story - as it's one of the first participants in Colorado's HIE. Imagine once the EHR systems have been rolled out and this happens on a much wider scale - then what? Are hospitals across the U.S.A prepared for such technical crises?
Technology offers amazing opportunities to improve the quality of healthcare and it would be foolish to not make the most of it. Going back to paper -records is not the solution, but if we try to achieve too much too quickly then we are in danger of losing sight of the whole purpose of migrating to EHR systems in the first place - to improve the quality of healthcare. We are venturing into a whole new way of practicing medicine. Let's do it properly.
By Ayesha Salim, Copywriter, IDG Connect
Why do you think some states have not adopted EHRs yet?