Software
InfoShot: Top 10 programming languages
Is Java still everyone's jam? Is Go gaining traction? Is COBOL crashing in popularity? Tiobe has maintained a list of the most popular programming languages since 2001, and the list for 2017 sees Apple's Swift break into the top 10 for the first time.
The placing of the most popular languages remained unchanged at the top: Java remains the most popular language for the third year running while C, C++, and C# retained 2nd, 3rd, and 4th respectively. Python, Visual Basic .NET, PHP, and JavaScript remained in the top 10.
The two new entries to the top 10 were Delphi/Object Pascal, which moved up to 9th from 11th, and Apple's Swift, which jumped from 14th to round out the list. Perl and Ruby were the two languages to drop out of the top 10.
"Since Swift is mainly intended to write applications in Apple's ecosystem," Tiobe's notes on the list explains, "it is expected that it won't rise much further." However, IBM is one of several companies looking to push Swift into the server, which could boost its popularity much further if widely adopted.
Outside the top 10, Google's Go, the kid-friendly Scratch, and R saw gains, while Assembly, Visual Basic, and Objective C lost places.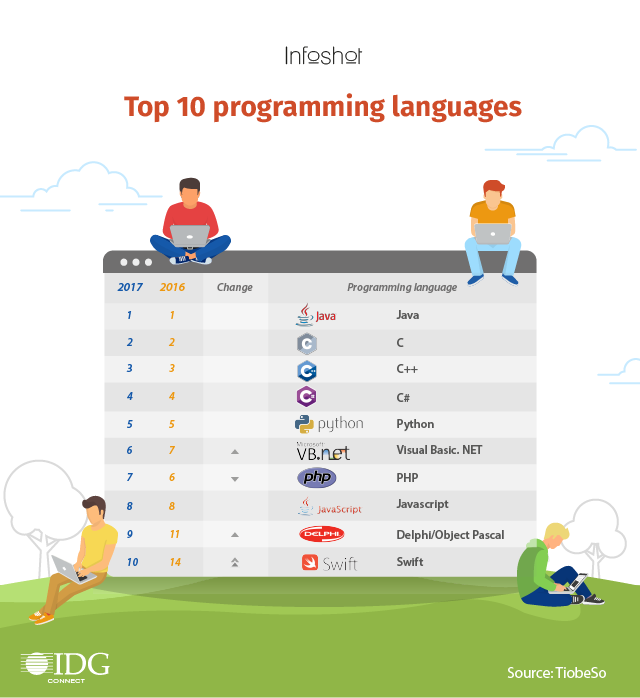 Also read:
Africa's first programming language to teach kids code
A coding bootcamp vs a computer science degree
Will machine learning spell the end of programming?
This new programming language promises a 4X speed boost on big data