C Programming vs. the iPhone: How Dennis Ritchie has been overlooked
There is an image doing the rounds on social media which is gaining a lot of attention. The version I saw circulating had 1171 likes and 171 comments, less than a week after it was distributed on LinkedIn, and was attracting a wide cross-section of different comments.
Naturally some of this was pointless social noise. But the heated level of response certainly served as a reminder of Ritchie's achievements and a barometer of the types of people that history tends to remember.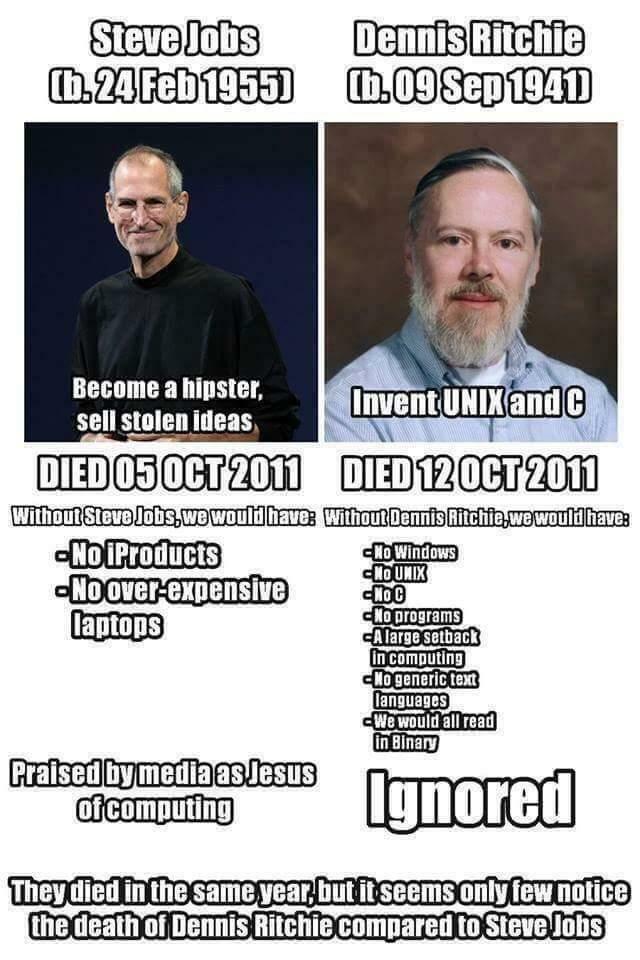 None of this is new. The Washington Post obituary stated that on the announcement of his death "historians and computer enthusiasts compared the bearded, introverted Dr. Ritchie to media-savvy Apple co-founder Steve Jobs".
It featured comment from Smithsonian computer historian Paul Ceruzzi who said: "Ritchie was under the radar. His name was not a household name at all, but… if you had a microscope and could look in a computer, you'd see his work everywhere inside."
While Brian Kernighan, Ritchie's contemporary at Bell Labs and co-author of C Programming Language told Forbes a week later: "A lot of iPhone software has been written in C and Objective C. So you saw shiny stuff when Jobs presented it, but underneath was something that had been developed a long time ago. But Dennis never spoke about it."
The vast array of comments posted recently on LinkedIn took a similar vein:
"Ritchie was a pioneer in software and OS development. Without his work, Jobs had no chance to develop smart devices and computers," wrote one.
"Different skillset, different kind of genius, both need to be celebrated," wrote another.
While two commentators added:
"Both delivered greatly in their respective fields. One to a consumer market, hence his fame and celebration."
And: "The issue is not Steve Jobs [sic] global recognition, well deserved by the way. The issue is the lack of recognition for Ritchie."
Some attributed this to specific bias:
"Media is used for manipulation. Plus computing is not only visuals and presentations like Apple's."
And: "A testament to how the media is run by superficiality."
It is hard not to see an element of truth in this. But as one individual rightly pointed out for everyone:
"Don't worry the right people noticed and mourned his passing."
And as the thread proved: this community continues to care.