Trends
Right or Wrong: 2016 tech trends forecasts revisited
Well, here in the IDG Connect Trends Forecasting Unit we're all patting ourselves on the back after an uncanny set of predictions as to what would happen in 2016 all came true. Sort of.
On the Internet of Things we predicted that there would a rush of companies promising to be the source of securing this wide-ranging, shape-shifting and prolific phenomenon. In fact, it's been harder to find security companies that don't have an angle here and as we suggested there would be, there was a plethora of folks writing policies, guidelines and calling for draft standards. Typing "internet of things security startup" generates over 5,600 Google results. OK, so some of these predate 2016 but this is now an established bona fide meme.
We also predicted that Twitter would be sold and the company's executives tried to prove us right with a long autumnal process that ended in failure. Salesforce.com appeared to come close but nobody sealed the deal to answer our plea to "come and grab this while it's still fairly warm and while users keep tweeting".
A better tip was Microsoft bouncing back and delivering on a "rebooted mojo". Perhaps sick of writing off the company as client/server era relic, everybody seemed keen to pat CEO Satya Nadella on the back in 2016. At time of writing, shares were up about $6.50 on the year-ago price, to $60.78 (and have risen higher since): a nice return if you'd got in. By contrast, we said that HP, IBM and Symantec might need to settle for a period of retrenchment – that also looks a decent (if unspectacular, or even highly predictable) call in retrospect.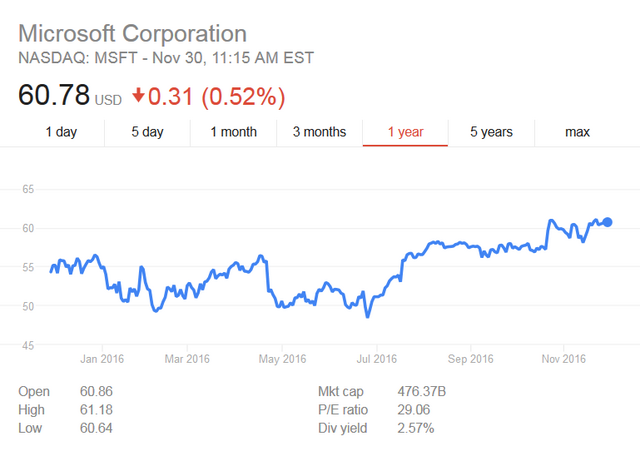 We said that personal assistants will go way beyond Siri and the enormous success of the Amazon Echo went some way in showing consumer appetite even if there was no real big "paradigm shift" – a drear phrase beloved of self-styled futurists. Minus a point there then.
Then there was the suggestion that consumer/commercial drone strikes might become news fodder. Facebook's debut flight of Aquila, designed to extend broadband access, was a high-profile case in point, as was a BA jet being struck.
Another forecast (admittedly low-risk) was that there would be lots of stories about machines replacing jobs and this does appear to have the makings of becoming one of the great memes of the foreseeable future, from driverless cars to drones to robotic pickers and food delivery units. Analyst firm Forrester even produced a report (as did the World Economic Forum) on the topic and the phrase "fourth industrial revolution" became a staple of the conference circuit. Chief among the boosters for this advanced state of automation was - who else? - Elon Musk. For those with long memories (read: old people) all of this might well recall the 1970s where there were confident predictions of either meltdown or Utopian freedoms to spend our lives in leisure. The truth will surely lurk, uncomfortably, somewhere in the middle.
Also read:
Technology trends in 2016: A bluffer's guide
Right or Wrong: 2015 tech trends forecasts revisited