Wireless Technologies
Mail by drone and robot exercise make Singapore smarter
The following is a contributed article by Jacqueline Poh, Managing Director, Infocomm Development Authority of Singapore
Given the speed of global technological innovation and adoption that we are seeing today, it is tempting to categorise the impact of technology as either something to be embraced wholeheartedly, or to be feared.
On the one side are those who believe in the promise of innovation to tackle imminent societal challenges that affect many parts of the world such as urban density, public safety and an aging population. There is an inherent faith in 'moonshots' and tech advances to ensure that citizens' lives continue to be improved, and that any downsides will be manageable. On the other hand lie arguments questioning how much technology society really needs. This is compounded by the fear of tech-related unemployment, the fear of compromising our human instincts in a world of machines that learn and an Internet of Things overwhelming the internet of people.
In Singapore, our aim is not technology for its own sake. Technology must be deployed to solve real urban problems in a real and tangible social context. The core of Singapore's government-led Smart Nation initiative is effective collaborations that combine technology, innovation and entrepreneurship to address a range of societal issues. Bringing together entrepreneurs, researchers, academics and enterprises to create the world's first "living laboratory" on a nation-wide scale, Singapore is working to innovate in areas that will ensure the nation's infrastructure and services are sustainable for the future.
The issues and problems that Singapore faces are not unique and can be found in other urban centres. The latest figures from the UN Human Settlement Program show that currently 3.5 billion people live in cities and this is estimated to double by 2050. Another pressing challenge is the aging population, a phenomenon that will see one in five people at 60 years of age or older by 2050 (HelpAge International, Insights on Ageing: a Survey Report, 2011). In fact, the current growth rate of the senior segment of the population is unprecedented in human history. Compounding this issue, many existing systems were designed under different demographic conditions so there is expected to be an increased strain on the demand for healthcare, social security, and the need to develop an overall environment that is more elderly-friendly.
Singapore has one of the 'fastest-aging' populations in the world, but its Smart Nation initiative means that the country is in a good position to develop services that address this societal challenge. Digital inclusion programmes are designed to ensure that all segments of society enjoy the benefits of technology. One recent example is "Robocoach", a moveable robot created to help improve the lives of seniors at senior activity centres by leading them through exercise routines and encouraging an active lifestyle. Singapore government technology arm, the Infocomm Development Authority (IDA), in collaboration with the Ministry of Social and Family Development, conceived the idea of the Robocoach which was developed by students from one of Singapore's leading institutions of higher learning, Ngee Ann Polytechnic.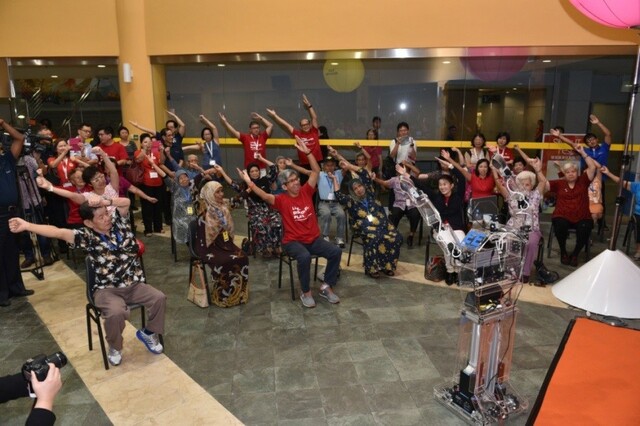 Enhanced with sensors, Robocoach offers personalised exercise routines and is also sophisticated enough to ensure that seniors perform them correctly to get the maximum benefit from their workouts, all under the watchful eye of trained volunteers who accompany Robocoach. At first, the teams were concerned that senior Singaporeans might not be receptive to machines or digital interactions. But initial sessions have proven to be so well-received by users in their 60s and 70s that IDA Singapore will be extending the use of the robot to many more senior activity centres and trialling a range of other smart eldercare solutions.
From a robotic gym instructor to a robotic mailman, it's clear we need to encourage new and innovative ways to help improve the lives of citizens. Drone deliveries are becoming an increasingly popular proposed solution for densely populated cities, with the aim of reducing traffic on already-congested roads. A number of global technology companies have already been testing its viability, including Amazon, Google, and Alibaba, which have been running trials using drones to deliver packages, but none in an area as populated or crisscrossed with civilian and military flight paths as Singapore.
As part of the Smart Nation's ongoing collaboration with innovative corporates, IDA Singapore recently partnered with Singapore Post (SingPost) to develop a drone to deliver mail. SingPost's exploration of drone technology is a move to facilitate urban logistics for one of the densest nations in the world, as well as to explore the burgeoning growth of e-commerce across Asia Pacific.
Working with IDA Labs, two drones were developed and customised over the course of four months. Just recently, as part of a technology trial, an unmanned aerial vehicle flew two kilometres between two sections of Singapore separated by a shipping lane, carrying a package for residents on a nearby island. This allowed for new possibilities for the postal operator to deliver medication or special equipment to offshore islands.

The successful conclusion of this trial in Singapore demonstrates how traditional sectors have had to address their functionalities and look for ways to innovate. One of the differentiators of the SingPost trial was the involvement from the start of a number of Singapore government and regulatory bodies including the Civil Aviation Authority of Singapore and Ministry of Transport, alongside IDA.
The ability to forge partnerships between people, private enterprise and government has meant that Singapore is able to experiment with big ideas fast, and deploy its Smart Nation vision effectively at scale to impact society. Singapore's Digital Government Initiative sets out to involve citizens more from the start of services development – community projects such as Beeline, a demand-driven private bus service, are created by drawing on aggregated data demand before and during development, to create new transport routes that meet public needs.
From these examples, it is clear that innovation is about so much more than simply using technology to solve problems for society. It is about partnering in the right way, putting people first, and daring to try out many small experiments to tackle bigger issues for the future of the nation. A recent report on aging populations by Nesta hits the nail on the head: "It's not just about new policy or new products or opening new markets or people changing what they do. It's about all these things, together."
Talk of using robotics and drones every day may seem like far-fetched concepts, and hard to get used to, but Singapore is demonstrating that it is possible for make technology work well in society, if we get researchers, enterprise, government and people to work together.