Training and Development
Emerging markets need to catch-up on high skill programming
Skills shortages in technology are endemic around the globe. In everything from security to Blockchain and the Internet of Things, finding talent seems to be a constant problem.
Emerging markets have long been outsourcing hubs for technology companies. IBM now has more workers in India than it does in its US homeland. The likes of Oracle, Dell, Cisco, and Accenture have tens of thousands of staff there too. While these workers might be cheaper and great in number, do they the right skills in sufficient numbers?
According to a report from employment consultants Aspiring Minds, India is suffering from a dearth of quality coders. A study of over 36,000 students found that the vast majority were unable to write competent code: less than 15% of engineers were employable for IT Services, and less than 3% for an IT product company. Last year, coding assessment company HackerRank ranked India 31st in the world for developer quality.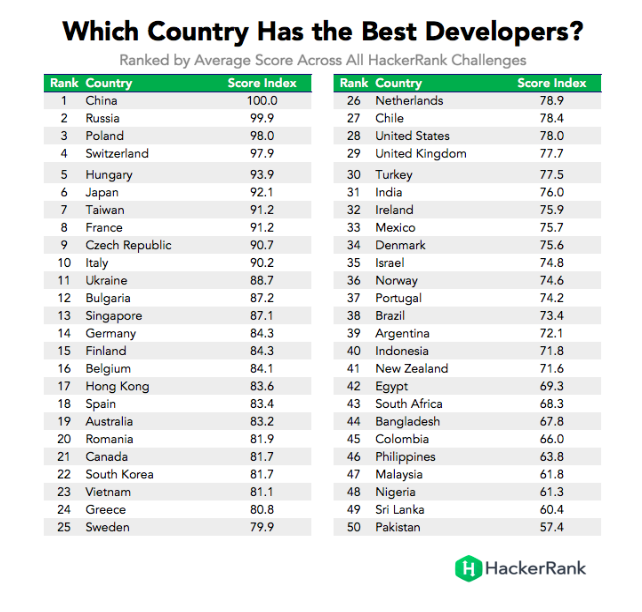 Not only are there issues of quality, the specific skills aren't keeping up with trends. There's an ever-increasing demand for skills in newer languages such as Go, Swift, and R, none of which feature prominently in India's coding skillset. The main languages Indian developers are experienced in are C++, C, Java, Python, JavaScript, and Bash.
In a piece for Quartz, HackerRank CTO Harishankar Karunanidhi said that institutions should focus on languages such as JavaScript, Golang, Python, Ruby, CPP, Lisp, or Racket rather than C, C++, Java, and Visual Basic.
In February, Capgemini India's chief executive Srinivas Kandula said 60-65% of the country's IT staff are "just not trainable". But failure to evolve could have a major impact on the country's workers over the next few years. HfS Research predicts India's IT Services sector could lose 640,000 lower-skilled jobs to automation and add just 160,000 higher-skilled positions between now and 2021. McKinsey & Company suggests half of India's IT jobs could be removed, while Indian industry body Nasscom suggests 20-25% of jobs could go.
This is a problem that goes beyond coding. Narendra Modi's 'Made in India' scheme has struggled, with Reuters reporting this week that ambitions to become a smartphone manufacturing hub are currently at best merely assembling parts manufactured elsewhere due in part to a lack of skilled labour.
Beyond coding, beyond India
Similar problems haunt Africa and other emerging markets. According to research from StackOverflow, lower-income countries are more likely to code in the likes of PHP and JavaScript, while higher income countries are far more likely to use Python, R, and Ruby.
Egypt and South Africa rate 41st and 42nd respectively for HackerRank's global rankings, with Nigeria 48th. A report from South Africa-based startup advisory company Elevation Holdings released earlier this year suggested the country is facing a long wait for its first billion-dollar startup 'Unicorn', with a lack of skills being one of the main inhibitors. Other reports and bodies have echoed this problem. While 'Made in Africa' initiatives were set up this year, they could face similar challenges around a lack of skills.
Also read:
InfoShot: Top 10 programming languages
Why Java is sticking around
When will South Africa get its first startup Unicorn?
Africa needs data scientists: What will it take to train them?
Africa's first programming language to teach kids code
Critical lack of skills could be the biggest security challenge
How to address the blockchain skills shortage
Can the skills shortage square with automation fear?
Could UK corporate education really solve data science skills shortage?
IoT skills set to rise in importance