Social Networks
Brexit vote fever has been heated by social media
The hysteria surrounding the UK referendum on whether to continue as part of the European Union has not shown social networks at their best. The shrillness, name calling, finger pointing, ad hominem attacks, ignorance over facts and puerile arguments have been hard to avoid in everyday life, but on Twitter, Facebook, YouTube, Instagram and similar sites the so-called debate has reached its nadir.
Perhaps it is true that social media sites create echo chambers and if so the noise of two competing chambers has become maddening. The British have a reputation for reserve but whether that reputation was always ill merited or has become outdated, it's fairly shocking to hear friends and acquaintances resort to the sort of discourse usually kept for pub closing-time rows.
You might say that the enforced brevity of Twitter is a catalyst for reducing arguments to their bare, knock-kneed elements or suggest that the acceptance of off-the-cuff comment is endemic in Facebook culture. But such a serious matter surely deserves a more informed exchange than that being played out on the social graphs of the web.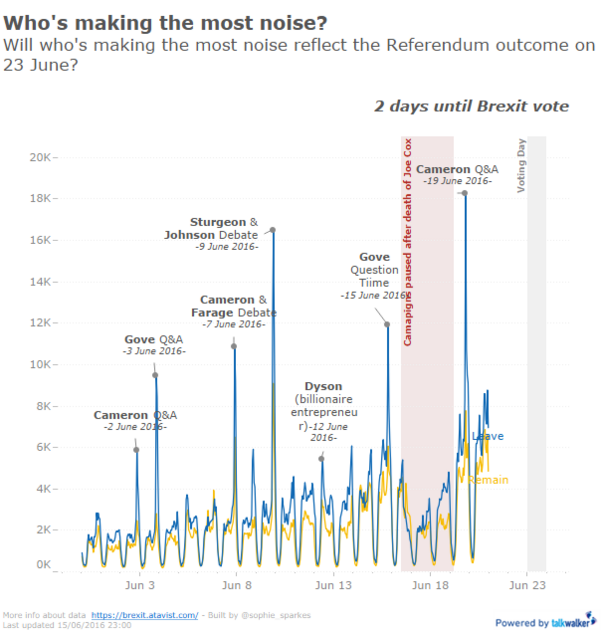 The campaign leaders themselves are partly to blame with little to no attempt to present a balanced view online or to provide independent resources that might steer rational choice. Instead reductio ad absurdum has reigned. All too often the formula has been to fillet the arguments of the opposition then present them through a distorting mirror. Or else to mock claims that aren't being made by the opposing camp, thereby creating a straw man ready to be flogged with a stick.
A fevered atmosphere helps nobody make wise choices. The Brexit poll build-up atmosphere is heated to barbecue levels and exacerbated by its chiming with news of mob and yob behaviour at the European football championships, always a time when nationalism and partisan feeling run high. The tragic murder of MP Jo Cox has also created more polarisation, arguments, counter arguments and tastelessness.
Of course, pettiness and crassness in political argument has a long and dishonourable history. But with social media the tension never seems to go away as each micro event becomes cause for online skirmishes, strafing, crowing or mockery. Little wonder that so many of us can agree on one thing – we'll be glad when this is over.
Also read:
Data expert sees narrow 'Remain' vote