Human Resources
How Managers Can Forget Strategy and Get Results
Often it takes someone else to point out that maybe you do things a little differently to other people. Because the way we behave in our life on a daily basis is – from our own point of view – simply the way we are.
A couple of years ago, I was trying to get back to London for an industry awards ceremony: I had been nominated as Personality of the Year, and the organizers were very keen for me to be there. I had taken a few days off to go skiing in Switzerland with my kids and was planning to fly back for the ceremony.
As luck would have it, on the day itself, the weather was against me and all the flights were delayed or cancelled. I phoned in to say it didn't look like I was going to be able to make it after all.
"Please make it," was the message back. "We really need you to be here."
There was a break in the weather, eventually, and well behind schedule a flight managed to get off the ground while the weather window was – precariously – open.
I landed in London and, with minutes to spare, a cab whisked me over to the Grosvenor House Hotel just in the nick of time. As I walked into the ballroom, which was full to bursting with industry colleagues in immaculate tuxedos and evening wear, heads turned as they clocked my T-shirt and ripped jeans. "It's black tie," hissed someone helpfully. "I know, I know, I couldn't help it," I muttered as I sat down at the table.
The awards were announced and, gratifyingly, I had won the personality award I was up for. It was the main award of the night, and obviously explained why the organizers had been so insistent on my attendance. I made my way to the podium where the comedian Ed Byrne, who had been compering the event, made a suitably sardonic comment about my sartorial choice: "You could at least have made a f***ing effort." I joshed with him – "Hark who's talking!" – since he was looking pretty scruffy too. We all laughed and the evening moved on. But the impact of that lasted a long time. I was, from then on, remembered as the guy in the ripped jeans who had picked up the main gong. And people thought how daringly different I had been to go up and get the award like that. They didn't know it was entirely faute de mieux.
Although I had not planned to turn up to the event in ripped jeans, I had still been determined to be there no matter what, against all the odds – a commitment to honouring promises that has always been important to me – and then be prepared to take a certain amount flak and ridicule for standing out quite so obviously. It played in my favour, because that was what made me memorable.
These things stick. Ever since, I have been asked to talk about my approach to work, to business, to management, because other people perceive it as being somehow different, radical or creative.
For me it is just a natural way of operating. A management technique that has grown organically and imperceptibly out of the experiences of my life, and the way I view the world – a world that demands a new approach to business, where old-school, analogue management techniques are defunct. Where fast, flexible, fearless business thinking is the only way forward.
So when, following a merger between two companies who had been fierce competitors, I needed to diffuse the tensions between colleagues who had until recently been bitter rivals, I took them up to the Arctic Circle where they would have to huddle up together to keep each other's bodies warm to survive the night.
When I wanted to encourage my team to break old patterns of thinking, I treated them to an unprotected swim with sharks to learn how to confront fear. To help key members of the company learn to field tough press enquiries I arranged for them to be "abducted" and "interrogated" on a trip to Tallinn.
Extreme? Maybe. Unusual? Definitely. Effective? Yes. Even if the way I run my business seems to others a little out of the ordinary, there is always a clear reason behind it, a result I have in mind, a purpose I am determined to aim for.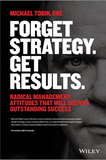 This is an edited extract from Forget Strategy. Get Results. Radical Management Attitudes That Will Deliver Outstanding Success by Michael Tobin, OBE. It is published by Wiley, priced £16.99.