Wireless Technologies
Connected cars conference UK: Government & industry perspectives
On my way to the SMMT Connected conference in Westminster, London and I see good old Big Ben but no sign of the Queen Elizabeth building where the conference is being held. The guy at the car barrier smiles knowingly and points in the opposite direction across the road: "It's that big ugly building over there." I nod appreciatively but am a bit embarrassed. The building is looming right ahead of me how could I possibly have missed it?
As I approach the building there's men manically washing the flashy BMW cars on display outside, determined to showcase their version of the "connected car of the future". And that's what today is about. I've been invited by SMMT for a day of talks with MPs, legal and automotive industry experts on the challenges and opportunities offered by connected cars. Earlier this year it was announced that the UK will test driverless cars in four British cities and has set an ambitious goal of drivers becoming passengers in their own cars by 2030.
"The challenge for the industry as the technology evolves rapidly is to make sure we secure for automotive in the UK a real stake in the ground as an emerging technology," says Mike Hawes, Chief Executive at SMMT in his presentation to the delegates in the room.
In a flashy video based on a study done by KPMG, we are told that by 2030 "connected cars will add 25,000 jobs in the automotive sector" and "2,500 lives will be saved" due to reduced accidents and injuries. Hawes is keen to emphasise that we need to look at the benefits autonomous cars will provide to society as a whole. In fact, it has been calculated that there will be a 51 billion value added annually by 2030. Hawes continues by saying that "connectivity is a once in a generation opportunity." He thinks that the UK is best placed to take connected cars by storm as we have advanced engineering capabilities, and a regulatory framework that "gives the UK an advantage over Europe".
In most cases when people think of automation taking over you think of job losses not job increases. So one has to wonder how they came up with these figures. But the various takeaways are these: less distractions mean less accidents. No driving means more productivity, and better ways to plan journeys. But while the promise of truly autonomous cars does sound exciting, it is clear that there are lots of challenges to overcome if the UK wants to reach the 2030 goal.
The issues
Who will own the data?
MP Ed Vaizey is breezily confident on stage and remains unshaken when asked about data privacy issues: "We should always start from the principle that the customer owns their data but we need to apply a common-sense approach that if data is used it can provide a better customer experience." He adds: "Businesses should not have to jump through hoops."
But Vaizey's cool exterior falters a little bit when a number of questions are fired at him concerning the UK's bandwidth coverage. Clearly for these connected cars to run properly they will be relying on decent coverage. But apparently Britain is way behind the rest of Europe in providing this. Vaizey vehemently tries to deny this by saying: "As far as I am aware we've already overtaken Germany on 4G coverage having started 2 years behind Germany."
Who gets to monopolise on the data?
A question from the audience is put to MP Robert Goodwill about the challenges concerning data protection acts. It is a big obstacle going forward in getting autonomous cars up and running. What is the government perspective in supporting data discussion on a European level as well as a global level?
"There's two issues in connection with data. The first is about access to technology and data and software so we can have an after-marketing servicing. I know the manufacturers hate it when we say this but we don't want to have a situation where a particular manufacturer has a monopoly in the servicing of that car," warns Goodwill.
Goodwill also adds that handling information coming from highways could also be problematic: "We have more information coming from our highways. In Kent they are tracking mobile phones (they don't know who you are) but the same phone appears at different junctions so they can know exactly what is happening on those roads," Goodwill says. "Do we want a situation where one manufacturer has better data, has better access and can get people who are in Jaguars onto that route that gets them to that destination? Or should we have a situation where everyone has access to the same data therefore there is no competitive advantage in having a better system?" Goodwill admits that "the jury is still out as far as he is concerned" as to which way we should move forward.
Then there is the question of cars using different technologies: "Will you buy a car because that particular model has such a good IT system on board so you can pass all the traffic jams while people in a cars with an inferior system on board can't?"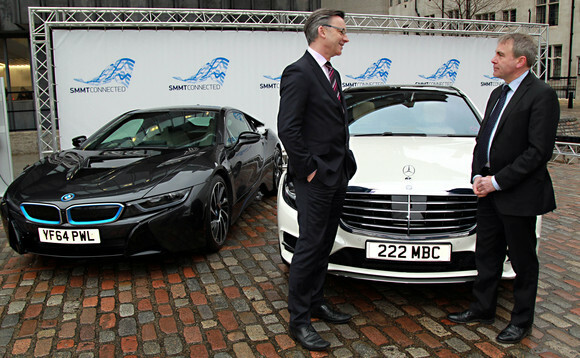 Driving skills will change
As technology changes the driving skills will change as well: "We are looking at driving tests and possibly looking at using satellite-navigation as part of the driving test, so instead of saying turn left at the next corner say take me to the station," says Goodwill.
Goodwill adds that it's not just about people taking driving tests but people buying these cars for the first time. There will probably be problems with handling instructions for various models: "We don't want a situation where people can't make full use of these vehicles."
Google and Apple reaping all the benefits
Dr Wolfgang Ziebard, Group Engineering Director at Jaguar speaks about what Jaguar have been up to in the connectivity of things and talks about how the automotive industry is wary of Google and Apple's move in the space – indicating that it could be troublesome.
"There's a race happening between the automotive industry on one side and the Googles and Apples on the other side about who is harvesting the benefit coming from this connectivity," says Ziebard. "This is stimulated by the fact that both Google and Apple announced their own cars." Ziebard quickly jokes that Apple "didn't officially" make the announcement but neither was it denied. The audience seems to agree with him as they laugh in appreciation.
"The automotive industry is fearing these companies disrupting the automotive business model as they have done in other industries also. Then the automotive industry will be left with just manufacturing hardware while all the benefit related to connectivity [will be] harvested by [these tech companies]."
Society and behavioural implications
Most of the talks so far have concerned the impact of autonomous cars on drivers. But now the focus shifts to the wider implications on society as a whole. A question is put to TfL about there being a real concern regarding changes to pedestrian behaviour in urban environments. What will that mean for congestion and traffic flow? Pedestrians will just walk out in front of cars. Children playing outside on roads will assume that an autonomous vehicle will just stop. The panel have no clear answer about his, but it is a serious concern.
Legal stuff
Monika Kuschewsky, a German lawyer and Special Counsel at Covington specialises in privacy and talks about some of the legal complexities that need to be ironed out before the 2030 deadline. Kuschewsky says that there is the issue of "fragmentation" as we have "28 different national laws implementing the European framework in similar ways but not exactly the same way". She also says that the EU directive dates from 1995 in the pre-internet age which is also a problem: "Many people feel we need to modernise it and bring it up to technological advancements."
Interestingly she says that in the US, car manufacturers have issued a privacy statement about how they treat user data and warns that going forward businesses will need to be transparent about how they will treat user data from autonomous cars. She adds that the legal framework that will be developed should not be prohibitive for innovation.
As the day comes to an end it is clear from the discussions that while the technology is there, the regulatory, infrastructural and wider societal impacts of autonomous cars still need to be figured out. Issues of liability if an autonomous car gets into an accident, data privacy, and the regulatory framework are complex and will require a long time to iron out. But there was one more thing that I was surprised had not been mentioned until much later in the day: the subject of enjoyment. This was pointed out by Stian Westlake, Director of Policy and Research at Nesta:
"Research shows that people are most happy when they are doing activities that are a little bit difficult but not so difficult that they can't do them. A psychologist identified that most people experience this while driving. Now in a world where your car is genuinely driving itself, it kind of raises a psychological question: is this a problem?"