Business Management
Keith Tilley (Europe) - Technology and the Economy Tops the Concern Ladder in the UK
Increasing red tape coupled with a lack of government support for UK business creates new hurdles each day, but is change afoot in 2012? Despite continued uncertainty in the macro global and local economic conditions, attitudes are improving slightly and businesses are still positive about their own prospects over the next year. Earlier this month The British Chamber of Commerce (BCC) announced it expects growth in 2012, with prospects improving in 2013*.
Amongst the challenges facing organisations, it's hardly surprising to see recent research* reveal technology (63%) and economic (60%) disruptions top the list of concerns for impact on the smooth running of an organisation. Technological fears included network failures and security breaches while the economic concerns highlighting potential currency collapse, with socio-political issues such as public sector strikes, riots and terrorist attacks also ranking highly.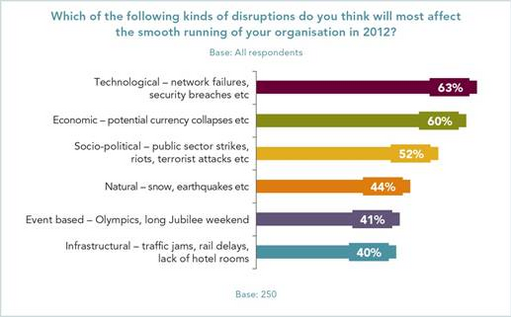 The link between technology and economic concerns almost move side by side.Information is the lifeblood of every organisation and is central to every process. Whether it sits as data in IT systems, as paper in filing cabinets or as knowledge within the brains of employees, information must be protected and, even more importantly, available at all times. Information availability has come of age.
We've seen over the past year that information downtime which affects business as usual can destroy the trust and relationship between organisations and their customers. Too many high profile businesses have been left with their reputations in tatters following prolonged periods of business disruption. Though it's the major disruptions that have hit the front pages this year, even the smaller incidents can have a huge knock-on effect. If a business suffers any form of outage and is unable to fulfil a customer's order or loses their data, the damage to that relationship can take months or even years to fix, assuming the customer has not defected elsewhere.
However, there is also evidence that businesses have maintained or increased their revenues in the last 6 months and still show cautious business confidence in their business prospects in the next 6 months, despite a general sentiment that global and local economies are now in decline.
Given the difficulties faced by countries in the Eurozone and continued austerity measures across all geographies, these are still an encouraging set of results.
2012 is set to be a challenging year and it's vital that organisations understand the potential fallout caused or exacerbated by poor or no preparation. Potential impact is likely to have an affect not just on operations, but customers, profits and an organisation's reputation.While economic collapse and public sector strikes might be out of the organisations control, understanding the impact and limiting their disruption to the business will be crucial to the growth or survival of any organisation.
With cautious optimism that the UK could be set to avoid another recession, Moody's threat of downgrading the UK to negative outlook earlier this year still rings clear as businesses cautiously approach the 12 months ahead.

By Keith Tilley, Managing Director UK and Vice President Europe for Sungard Availability Services.
*The research was carried out separately by Vanson Bourne and YouGov. Vanson Bourne interviewed 250 Directors in senior level operational, IT and HR roles amongst organisations with 250-1,000 employees in the UK. YouGov polled 1297 working UK adults across the country. Both sets of research were carried out in February 2012.