Mobile Communications
Dr. P Prakash (India) - Mobile Phone Consumption in India - The Drivers of Purchase Decision Part I
Introduction to the Indian Mobile Phone User Statistics
With around 771.18 million mobile subscribers India is one of the most vibrant mobile markets in the world with many unique characteristics. India's mobile connection base reports an approximate month-on-month increase of 2.52% ; while the wireless urban teledensity stands at approximately 143.36%, rural teledensity is still quite low at 31.05%, with 258.93 of the wireless connections from rural India. But with a diverse population, what is the profile of the `average Indian mobile consumer'?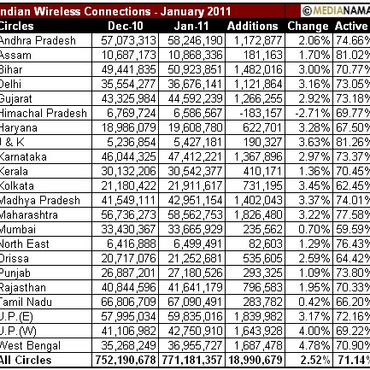 The changing profile of the Indian customer has made it imperative for the mobile handset developers to utilize customer centric, differentiated strategy to cater to a variety of end users. While next generation Indian customers are educated, smart, equipped with technology and well informed about the latest features available to them on a current device; the rural markets purchasing a handset is a major investment, the average amount spent on a handset equates nearly half the average monthly salary. Another interesting fact that has been observed in emerging markets with a large rural population is that low cost does not equal affordability. The average price of a handset in India is about Rs 4000 to 5000, and this is still a significant burden for millions of individuals living on just a few rupees per day.
Yet, with these low-income, first-time buyers are demonstrating their willingness to purchase and use mobile phones. Handset manufacturers and mobile operators could accelerate penetration of developing country markets by facilitating alternative payment programs and financing options to help low-income buyers overcome the barrier of the initial capital outlay for handsets.
The Indian Consumer and his Mobile Phone
Much has been made of the great heterogeneity that characterizes Indian consumers. Many, in fact, claim that there are so many lines that can be drawn when classifying the Indian consumer that a really complete characterization is next to impossible. But still, people continue try ascertaining the proclivities of Indian consumers, using a range of criteria.
Mobile phones, by-and-large is seen as a device which provides voice communication. The 'real experience' as a personal device is missing. Studies have clearly shown that the mobile phone does provide an Indian consumer with emotional gratification, but it lacks the required emotional connect with the users.
The recent launch of 3G services is driving the mobile handset market forward; we also see the popularity of smartphones gradually increasing. With rising income levels more and more people are opting for these high end devices.
However though the use of data on the mobile devices has increased in recent times, it has failed to really capitalize on the intellectual and spiritual needs of users.
The mobile device is 'hand-held' and has the most proximity to users than any other device, but most mobile phones in India lacks 'intimate' touch with the end-users. Psycho-graphic profiles have found a good match for high-end phones, but lack any correlation with features phones. In low income groups, basic instincts were 'sustenance'. For young users the instinct is 'sociality' i.e. bonding with group, friends, peers & family and 'learning' new things.
For the second and final part click below:
Mobile Phone Consumption in India - part 2

Mobile Phone Consumption in India - part 3
By Dr. P Prakash, principal consumer researcher, Smart Sky Electronics & Research Pvt. Ltd.