Wireless Technologies
RIP AI Pioneer Marvin Minsky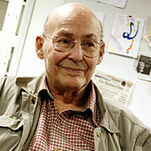 We are on the threshold of an era that will be strongly influenced, and quite possibly dominated, by intelligent problem-solving machines. But our purpose is not to guess about what the future may bring; it is only to try to describe and explain what seem now to be our first steps toward the construction of artificial intelligence.
Marvin Minsky, 1960: Steps Toward Artificial Intelligence.
Marvin Minsky, pioneer of artificial intelligence and co-founder of the Massachusetts Institute of Technology's Artificial Intelligence Project has passed away at the age of 88.
Described by the New York Times as a man who "combined a scientist's thirst for knowledge with a philosopher's quest for truth", Minsky founded the AI field in the 1950s and was responsible for many of the inventions that have led to some of the most cutting-edge technologies used by the major technology companies today.
He designed a robotic hand that has influenced modern robotics and invented the first head-mounted graphical display. This is notable considering virtual reality is set to take off in the coming years with the Oculus Rift and other virtual reality headsets.
His 1960 essay, "Steps Toward Artificial Intelligence" attempted to understand intelligence and together with his colleague John McCarthy (who coined the term "artificial intelligence") the MIT Artificial Intelligence Laboratory was majorly influential in shaping the "open-source software movement" and was a "part of the original ARPAnet", the forerunner to the internet.
In the late 1960s, Minsky started working on Perceptrons, which studied characteristics of neural behaviour. It marked a "historical turn in artificial intelligence".
Theoretical physicist, Jeremy Bernstein remembers Minsky as being capable of "elucidating the most complicated ideas in simple language". He also recalls him being a "fascinating conversationalist, with an engaging sense of humour and a luminous smile".