Mobile Communications
Dan Swinhoe (Global) - The App Revolution: How this Varies By Market
"The iPad2 is equivalent to a 1986 Cray II supercomputer. It was the pre-eminent computer in the world. In 1993 the iPad2 would have been considered one of the 30 fastest computers in the world."
George Colony, CEO, Forrester
Needless to say, computers have got a lot better in recent years. The age-old theory that processing doubles every 18 months and storage doubles every 12 months, all the while becoming cheaper means that our hand-held devices now contain even greater potential than ever before. Much of this potential is being channelled through apps, and with sales of smartphones having now surpassed 1 billion this year, this isn't a trend that will be dissipating anytime soon.
App culture has become ubiquitous; Google's Our Mobile Planet series shows featured app stats for a variety of countries, including who has the most, who can't live without them, and the free/paid for ratio. According to the stats, Japan is the most 'appy', but Germany is amongst the most keen to pay. But whichever country you view the stats for, the numbers point to more apps being used by more people - both app use and development have spread like wildfire across the world.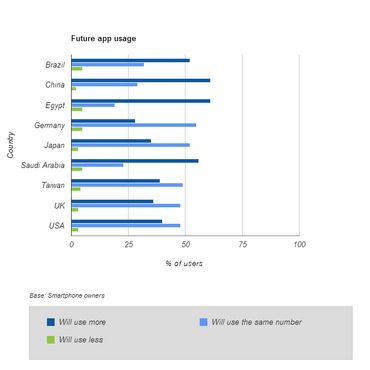 According to 148apps, the Apple store has 719,452 apps available, and to buy them all would set you back a hefty $1,307,715.69. Unsurprisingly, Angry Birds Star Wars is currently dominating the App store charts. By the end of the year, over 45 billion apps will have been downloaded - around 15 billion of those from Google, but you can expect Android to take the majority share in 2013 due to the sheer number of devices being sold using the search engine's OS. Microsoft's own appstore is yet to make significant inroads in any market but, depending on the success of its Surface tablet this could well change after Christmas.

Mobile App Store Downloads, Worldwide, 2010-2016 (Millions of Downloads)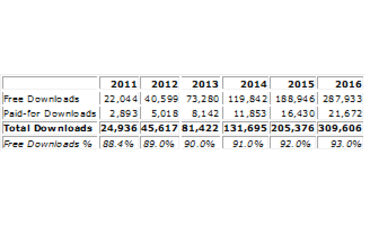 For all the talk about different capabilities and functions smartphones and tablets have, app metrics for both iOS and Android say the same thing; people like games. In all the charts, no matter what system or country, games feature heavily in both free and paid for. There are exceptions, e.g. Whatsapp, Youtube or Facebook, but the charts seem to say procrastination is the name of the game. Gartner predicts that free apps will account for 89% of those downloads, but that doesn't mean there's no money to be made or value that can be found from the app revolution.
Several of the most expensive apps available, a few coming in at an expenses form-busting $999.99, are business-related - cashier systems, agricultural, resource-recycling, process analyzers, even veterinary diagnostic helpers, are available. There's all sorts of business apps - from large scale monitoring, military-grade phone encryption, or even smaller ones to keep track of ideas and expenses. And that's just off-the-shelf.
UK Prime Minister David Cameron is currently testing his new 'Number 10 Dashboard', a new government mobile app that keeps track of data for housing, jobs, polls, and other info politicans need to try and do their job properly. It's due to be rolled out throughout Whitehall next year, and DC even plans to show it off to Barrack Obama at the next G8 Summit.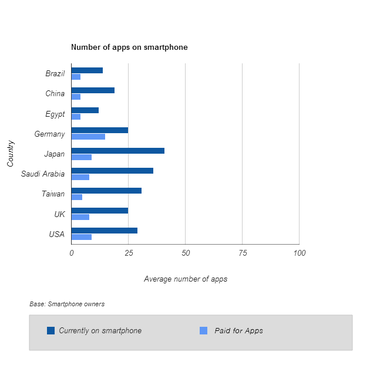 Custom-app building continues to grow, today's estimates putting the average cost of development at around $30-40,000. According to a report by Appaccelerator, Apple has become the chosen platform for enterprise app development, with 53.2% of developers picking iOS for corporate app development.
Does all this point to the death of the web, and the rise of the 'app-internet'? While it's true many companies are moving away from web towards an app-based culture -Google thrives on the web but hasn't stopped its march towards Android & apps - so don't start measuring the casket yet. In the same way some experts talk about the death of the PC despite there still being life in the old monitor yet, the internet isn't going anywhere soon.
While things such as social media and certain business software are now fully-apped, other areas are still a while off. For example media outlets are still struggling to cope with apps (web is still a struggle for many), while the largest programs - CAD/CAM and other large engineering/graphics programs simply are too big and complex for apps and mobile devices. At least for now.
What's your view? Is the internet dying? Does your company embrace the app?
All this talk of Apps got your downloading finger twitching? There's an app for that! Try our IDG Connect app- get our blog straight to your mobile device
By Dan Swinhoe, Editorial Assistant, IDG Connect,