Data Mining
Africa: Big Data and the Cancer "Tidal Wave"
At the start of February it was widely reported that the World Health Organisation (WHO) had predicted a cancer 'tidal wave' which threatened to sweep the globe and encompass 24 million people by 2035.
Now everyone knows that cancer is major killer. In fact, few people in the West have escaped unscathed in one way or another. Yet it is generally assumed that this as a First World problem. In popular opinion, cancer largely ignores continents like Africa, which are ravaged instead, by less stealthy, more publicised, health threats such as HIV and famine.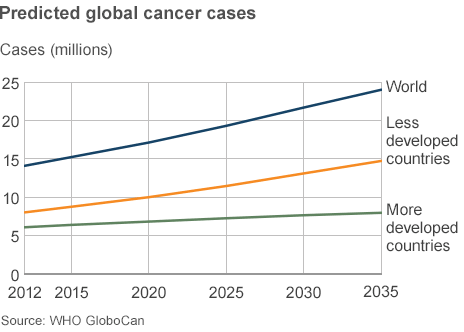 This is not entirely the case. The WHO office for Africa states for example that: "The regional burden of cancer continues to grow [and] tackling it constitutes one of the major challenges in our Region." Like most diseases it also has unique local 'flavour'. And while the majority of countries around the globe see breast cancer as the biggest threat for women, across Africa, cervical cancer is actually more rampant.
The main issue with cancer is, like the disease itself, it tends to spread quite gradually. It may have started as a small concern brought on by increased longevity. But over time it has hit endemic proportions and the West, which is riven by processed diets and lack of exercise, is now plagued by it. Yet the African continent could still be in a position to help tackle the problem head on. And so, in conjunction with WHO, AFRO member states have put together a policy plan, which at least aims to facilitate policies and infrastructure, to deal with it up front.
Aside from helping the population understand the threat, one area where tech might be able to make a difference is through Big Data. At the end of last November, IBM, which has had huge Big Data initiatives across the continent, announced that it would be working with Union for International Cancer Control (UICC) to build cancer registries in developing nations. The collaboration which began in sub-Saharan Africa aims to "help close the gap in cancer prevention and treatment."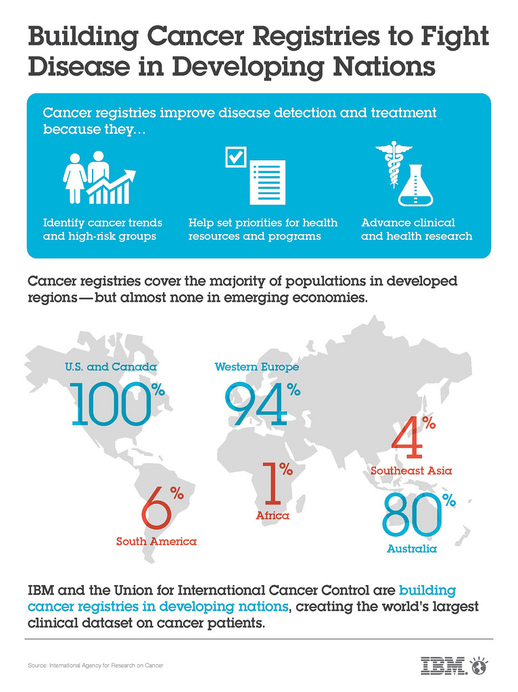 Statistics show that although there are more than a billion people in sub-Saharan Africa, less than 1% of data about local instances of the disease is collected. This means the new IBM/UICC initiative should improve cancer registration, which should in turn provide invaluable knowledge about local cases and gradually enable improved treatment. Cary Adams CEO of UICC said in a statement: "Much of the world is tracking a growing burden of cancer with very incomplete information. Improving the collection of data is critical to our ability to address cancer around the world."
Better, more up-to-date information is always one of the best ways to tackle any problem. And even beyond this particular initiative, the potential social benefits of Big Data across sub-Saharan African countries seem especially panoramic. Ethiopia, for example, is already emerging as a surprising leader in this space by using data to help predict against the slew of natural disasters that have blighted its crops and caused famine in the past.
IBM has sat at the forefront of numerous Big Data initiatives across Africa for some time now and was even awarded leadership recognition for its work in this arena by Frost & Sullivan last month. These have included an extremely varied range of social projects across the whole sub-Saharan region. For example, its smart cities project in Accra Ghana aims to use data to solve various problems ranging from traffic congestion to revenue collection, whilst it has also been heavily involved in the Square Kilometer Array (SKA) project. This mammoth undertaking aims to build the world's biggest telescope in South Africa… to better understand the universe.
Big Data may be one of the biggest buzz phrases at the moment, yet even now, the sheer potential does seem to baffle many people. Africa itself also provides a very different, mobile first landscape, which is unlike anywhere else in the world. This means it probably needs to approach Big Data adoption in a uniquely African way, but if it does, the opportunities are as big, if not bigger than elsewhere.
These can include commercial opportunities for better marketing, audience targeting and streamlining business processes. They can also mean insights to help counter existing social problems… along with the inevitable range of new ones which will occur as the continent develops.
Kathryn Cave is Editor of IDG Connect