Human Resources
Top Tips: Preparing for the next generation of CIO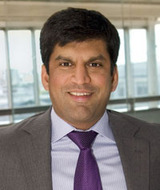 Ashish Gupta is President of UK corporate at BT Global Services. Before this Ashish was BT Global Services chief information officer (CIO) and president of portfolio and service design, where he was responsible for delivering the network and IT strategy and managing and running a portfolio of solutions to provide flexible, competitive and agile services to BT's customers globally. Ashish has extensive experience across BT having held positions as managing director of BT Global Platforms and deputy CIO of BT Wholesale. Before joining BT in 2004, Ashish spent nine years with Tech Mahindra in various roles, including IT delivery director responsible for Tech Mahindra's CRM practice.
A chief information officer (CIO) who neglects to plan for the future of their organisation's IT infrastructure would quickly find themselves out of a job. But how many CIOs take similar responsibility for planning their future leadership team, even down to who might one day take their job? Succession planning for IT leaders is no less critical than a technology roadmap. It should be a priority for every CIO to fill their organisation's succession pipeline with IT leaders for the future.
The role of the CIO is changing fast and we need to be clear about what we want from our future IT leaders. As they say in financial services, past performance is no indicator of future results. Digitalisation is rapidly undoing the traditional relationship between the business and the IT department. The increasing uptake of the Internet of Things marks a new era of 'digital business,' which will offer limitless new opportunities to a new generation of IT leaders.
Five essential qualities for tomorrow's IT leaders
So if you hold a senior position in IT, what should you look for in your successors? Or, from the other point of view, what will help you get your boss's job one day? I believe there are five essential qualities we must encourage in future IT leaders of the digital age.
Build your business expertise - The first is commercial know how. Recent research by BT, Art of Connecting: creativity and the modern CIO, shows that today's CIOs have greater standing and influence in the boardroom. Their performance is increasingly measured by business results such as revenue growth and employee satisfaction. So any credible IT leader will comprehensively understand the business, its opportunities and challenges, and have a vision for its future.
Venture outside the IT department - Second is the ability — and the will — to connect with colleagues outside the IT department. That means having personal, positive, face to face conversations about technology and business innovation. Of course, you can only do this when you genuinely understand the business and that means getting out of the back room, talking to your colleagues and learning from those who work at the grass roots of your organisation.
Get creative - Third on the list is creativity. Creativity is the skill CIOs most need to turn new technology into something meaningful. As Albert Einstein said: "The greatest scientists are artists as well." Imagination is something not traditionally associated with the IT profession. But nearly two thirds of IT decision makers say their board wants creativity from the CIO. The good news is that cloud computing, SaaS, mobility and rising IT literacy mean that business units no longer need to rely on the central IT department for all their technology needs. Old school CIOs might see this so called 'shadow IT' as a threat, but the new generation will recognise that it's an opportunity to encourage innovation anywhere and everywhere in the business.
Stand out from the crowd - I'd also like more diversity of background, of career history and outlook in the pipeline. We CIOs are a homogenous bunch. Unsurprisingly, IT graduates dominate. Humanities and the arts account for only three per cent and one per cent respectively. In the Art of Connecting: creativity and the modern CIO we found that the majority of IT leaders (70%) received their highest level of qualification in an IT-specific subject. We should recruit not only from other academic backgrounds, but also encourage men and women from other parts of the business to join us. Two great examples are National Trust CIO Sarah Flannigan and Halfords CIO Anna Barsby — neither has a traditional IT background.
Maximise your commercial partnerships in the digital age - CIOs need to have the ability to work with technology partners as actual partners, not just a traditional vendor/customer relationship preoccupied with processes, project management and SLAs. The reality is that although nearly nine out of ten CIOs consider their technology partners to be creative, only three in ten actually get around to approaching vendors for creative solutions. They are missing a trick. We should jointly explore the threats and opportunities of the digital age, and work to innovate at every level. An ability to maximise the creative power of technology vendors is a critical skill for the next generation of IT leaders.
Stars that shine brightly
Truly creative, commercial, connected IT leaders are stars that shine far beyond their organisation. Global demand for such leaders is already strong. Former Tesco CIO Mike McNamara is now with US retailer Target (which spoke of his "driving force for technology innovation") and Maggie Miller, former CIO of Sainsbury's, is now CIO for New York State in the US. It is also a career path that leads right to the top: Luis Alvarez, CEO of BT Global Services, is a former CIO.
Technology is changing so fast that it is creating boundless prospects to innovate and create something completely original. IT leaders have more power than ever to shape the world we live in. So let's make sure we fill our succession pipeline to the brim with the right skills, talent and attitude — and encourage our younger colleagues to go for every opportunity to shine.