Business Management
Gloria Christie (US) - Privatization: Contractors' Path to the States (Part 2)
PRIVATIZATION: Contractors' Path to the States (Part 2)
If Republicans can successfully downsize state government, governors will need to backfill the empty spaces left by lowered employment. Part two of this article covers an approach Republicans use to influence the economy, by resisting the Affordable Care Act, sometimes called, "Obamacare". If they are successful, this opens another avenue for contractors to pursue. Read part one of the article here.
Unlike the federal government, state governments must balance their budgets. We see a major political shift to privatization led by Republican governors. The Republican Governors Association (RGA) is self-described as the most, "…disciplined political committee in the country". This new generation of governors has produced leaders committed to transforming not only their own state, but also the country. Statistically, the top states for business are led by Republican governors.
THE AFFORDABLE CARE ACT
Adding to the employment decline, major for-profit medical centers have begun layoffs in the thousands in direct response to the Affordable Care Act implementation. Ironically this Act is largely based upon one the Republican Presidential candidate, Mitt Romney, implemented during his tenure as governor of Massachusetts.
The Affordable Care Act, commonly referred to by Republicans as, "Obamacare" recently made its way through the Supreme Court. But 15 governors indicate they will probably not join expansion of Medicaid under the act even though the federal government would subsidize the bulk of the cost, 90%, through 2016. As it was initially structured, the Affordable Care Act would have provided healthcare coverage to 17 million more low-income Americans.
The governors to follow as the new face of the Republican Party are Bobby Jindal of Louisiana, Bob McDonnell of Virginia, Chris Christie (no relation) of New Jersey, Susana Martinez of New Mexico and Scott Walker of Wisconsin. They are bringing conservative solutions to the challenges facing their states.
BLOCKING THE AFFORDABLE CARE ACT
The Affordable Care Act could be the source of nationwide contracts. At this time, a significant number of states, both Republican- and Democrat-led, are undecided about whether or not to expand Medicaid.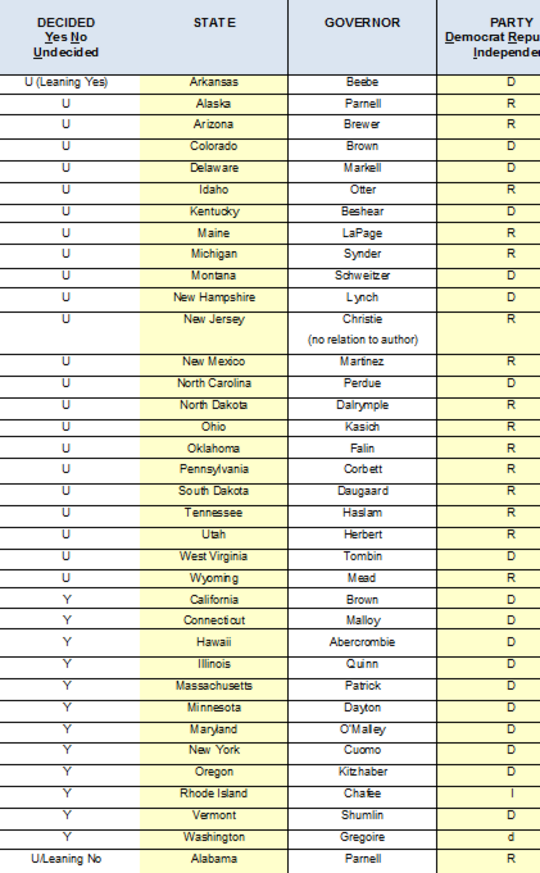 FEDERAL SUBSIDIES
Federal Subsidies to the state increased over the present and past administrations from 25.7% to 34.1%. With the implementation of the Affordable Care Act, states would receive on average $3 for every $1 they spent on Medicaid. Those dollars feed directly back into the local community.
CONCLUSION
The Republicans have devised a rather brilliant plan to slice state employment in the months just prior to the Presidential election, rejecting the Affordable Care Act. Yet President Obama, by default as sitting President, will be held accountable for high employment and the ensuing worse economy. This act would infuse hundreds of new jobs and substantial dollars into state economies.
Disclaimer: This blog is based upon my opinion and my opinion only. It does not reflect those of IDG-Connect.
By Gloria Christie, Partner at The Christie Group