Mobile Applications
Brazilian Programme Helps UK Teens Write Apps for Good
Most of them are shy and seem a little bit afraid of talking to a journalist. One of them even asked for the permission of his teacher. But no matter how difficult it can be, these boys and girls aged between 13 and 15 are showing me and dozens of other adults how the apps they created work. In a marketplace atmosphere, students from different parts of the UK, from Potters Bar near London to Wick in Scotland, present the ideas they turned into reality thanks to an open-source technology programme named Apps for Good.
"We never would have thought of creating an app before", Adam tells me. He is part of the group of boys that developed Social Bank, an app that "helps you save for what you crave for the most."
Although the room is full of other interesting ideas, apps are not really the point of what the Apps for Good does. "Our goal is to produce more able, self-confident, collaborative young people, ready to make a difference to their world", states the non-governmental organisation's website.
"For me, technology is a tool to get meaningful things done. Forty-nine per cent of the students in our courses are now girls and about a third are ethical minorities," says Iris Lapinski, CEO of Apps for Good.
"We don't specifically target girls or minorities and the reason we have so many of them is because we don't start with the condition that technology is great in itself. The way we start is: find a problem that you feel really passionate about it and then turn that into a solution."
Fathima Anwari, the teacher who helped the boys create the Social Bank app, highlights yet another aspect of the project.
"The strongest point in my opinion is to allow the students to connect with industry experts. It is great to bring the industry into classroom. Some of our team will definitely follow a career either in business or technology. They are now really interested in that."
Lapinski does not necessarily disagree with Fathima's point of view and says that the initiative is growing so fast (today, the project is present in 231 schools around the UK) because "people in the tech industry want to grow the next generation and are worried about talent."
Brazilian roots
The roots of Apps for Good lie in the favelas of Rio de Janeiro, where its parent CDI started computer-based learning programmes in the 1990s.
"The first few months of Apps for Good were quite entertaining. I would say: 'There is this great project from Brazil and I am German, so trust us: it will be a great success in the UK.' This is not really a great pitch," remembers Lapinski, laughing.
Inspired by the work done in impoverished communities in Latin America, Lapinski decided to capture the essence of the success achieved by CDI and replicate it in the UK. But some shifts and changes were necessary and not all of them were planned. For example, to be located at schools was not part of the initial project.
"That was the great pivot we did in the first year. We started with unemployed people from 16 to 25 years old and then very quickly moved into schools — not because I had a great plan but because there was a head teacher in east London who chased me. She saw an article about the project and said: this is relevant for my school and she stalked me for a month. I replied: we don't do things at schools; schools are too bureaucratic, why would we do something with a school? And she said: no, no, listen to me, we can do it, it is important. And in the end she finally convinced me."
Girls are doing tech!
"Look at these students. Girls are doing tech! This is no Big Bang Theory cast, no Sheldon Cooper here," says one of the partners of the project while presenting the winners of the national Apps for Good Awards. And it's true that there are a lot of girls on stage.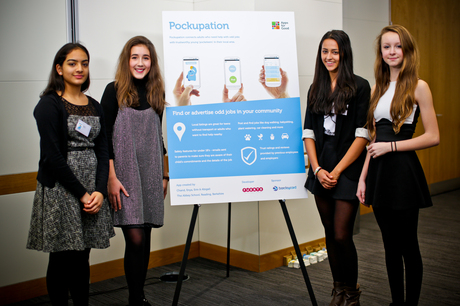 "It definitely opened my eyes to this field; before, I thought it was too hard, not for me," says Erin, 13 years old and a co-creator of Pockupation, an app for recruiting people for odd-job tasks. "I was quite reserved and I didn't like talking in front of a lot of people but I certainly grew in confidence."
With three other girls, Jeri, 14, helped create Dog Log, an app designed to make dog walking fun through an essential human characteristic: the desire to compete.
"We all have dogs and one of our dogs is quite overweight so the idea came from that," she says. "When you know that you want to win and that you can beat someone, it does get you to go ahead and walk."
But the transformative effects of Apps For Good are broader.
"Definitely it changed my view on technology," Jeri says. "It was great fun to work with so many great people.
Nathalia Fernandes is a London-based Brazilian journalist. She has worked for BBC World Service, Globo TV and Reuters.