Internet
News Roundup: May vs encryption, WWDC, and IoT burial urns
Reality Winner, teenage hackers, and unconstitutional blocking.
Encryption faces a Mayday
The last seven-odd days have been more than eventful in the UK. While the General Election is understandably the headline of the day, it's the government's response to last weekend's London terror attacks that could have the most impact on technology companies and the people who use their services.
"Enough is enough," said then - and likely still – Prime Minister Theresa May in the wake of the attacks. "We cannot allow this ideology the safe space it needs to breed. Yet that is precisely what the internet, and the big companies that provide internet-based services, provide."
May and the Conservative government often use such attacks as fuel for greater internet regulation, backdoors into systems, and to water down encryption.
In a commentary piece for the Guardian, Liberal Democrat leader Tim Farron warned that the issue of online terrorism would not be solved with 'political gimmicks or by banning particular technologies'.
"If we turn the internet into a tool for censorship and surveillance, the terrorists will have won. We won't make ourselves safer by making ourselves less free."
Facebook and Twitter both reaffirmed their desire to prevent their platforms being used for nefarious deeds. "We want Facebook to be a hostile environment for terrorists," said Simon Milner, Director of Policy at Facebook, while Twitter's UK Head of Policy Nick Pickles said that "Terrorist content has no place on Twitter."
Meanwhile Australia's attorney-general George Brandis and cyber security special advisor Alastair MacGibbon have both suggested they want a way around encryption, but somehow want it without creating backdoors, which is pretty much not possible.
Apple WWDC
Apple held its annual WWDC event this week. Announcements were mostly about incremental improvements – including new versions of MacOS, iOS, WatchOs, TVOS – and the usual updates to hardware. There was a big redesign for the App Store, and this version of MacOS – High Sierra, comes with virtual reality capabilities.
The unsurprising surprise reveal was the Siri-enabled smart speaker, the HomePod. Tim Cook & co. seem to be pitching the device around music initially, rather than an AI assistant or home controller. It looks quite nice though.
Winner and the NSA not winning
The NSA has suffered another leak. The Intercept this week posted a Top Secret report detailing Russian hacking efforts relating to the 2016 US election. According to the report, at least one US voting software supplier suffered a cyber-attack at the hands of Russian intelligence, while spear-phishing emails were sent to over 100 local election officials in the days leading up to the election.
However, the leaker of that report, 25-year-old government contractor Reality Leigh Winner, has been arrested for leaking the information to The Intercept. She was apparently caught thanks to nearly invisible dots printed on the documents she printed, which the Intercept then uploaded online. According to prosecutors, Winner wanted to "burn the White House down."
In a statement to the Freedom of the Press Foundation, fellow whistle-blower Ed Snowden criticised Winner's arrest and her charges under the US Espionage Act:
"The prosecution of any journalistic source without due consideration by the jury as to the harm or benefit of the journalistic activity is a fundamental threat to the free press. As long as a law like this [the US Espionage Act] remains on the books in a country that values fair trials, it must be resisted."
In related news, the NSA has decided not to reveal how many US citizens it has collected data on.
M&A
A study by Stamford University has found that US-based Unicorn startups are over-valued by an average of 51%. Recognisable names in the list of most overvalued include Box (by 195%), Datto (202%), Nutanix (156%), and Square (171%).
SoftBank has acquired AlphaGoogle's robotic duo Boston Dynamics and Schaft, Uber has reportedly snapped up Luxe, AT&T now owns Brocade's Vyatta technology, Snapchat has bought ad-analaytics startup Placed, Emergency Communications Network (ECN) has merged with Send Word Now to create OnSolve, Alteryx has snaffled Yhat, and VR startup Mindmaze has splashed out for Gait Up.
Facials
Is Facebook spying on you through your webcam? It's an old rumour that the company has repeatedly denied, but a newly found patent from the company has reignited the suspicion. Techniques For Emotion Detection and Content Delivery looks at detecting emotion using 'imagining components', i.e. webcams. The social network may also be working on another messaging app targeted at teens, but with parental controls available.
In other news, Police in Wales became the first in the UK to make an arrest thanks to automated facial recognition technology. South Wales Police made an arrest in Cardiff thanks to facial recognition technology equipped onto a roaming police van. Although tested while the Champion's League final was being held in the city, police say the suspect is a local man.
Teenhackers
Criminals are getting younger and younger these days. A 14-year-old boy this week became the first person in Japan to be arrested for creating and distributing ransomware. The un-named boy, from Kanagawa prefecture, told police he developed the malware – which infected around 100 computers –as a test of his skills after teaching himself using information found online.
"I tested my skills, and I could make one," he reportedly told police.
Unconstitutional social media habits
If the President blocks you on Twitter, is it unconstitutional? One group is looking to find out. The Knight First Amendment Institute, a First Amendment group based at Columbia University sent a letter to President Trump demanding that he unblock two people who had criticised him on Twitter.
In it, they claim the President's Twitter account counts as a "designated public forum", and is therefore protected by the First Amendment – which includes the right to free speech.
The two users in questions are Joseph M. Papp (@joepabike), reportedly blocked for using the hashtag #fakeleader, and Holly O'Reilly (@AynRandPaulRyan) for using a GIF of the Pope looking uncomfortable and writing "This is pretty much how the whole world sees you."
"Though the architects of the Constitution surely didn't contemplate presidential Twitter accounts, they understood that the President must not be allowed to banish views from public discourse simply because he finds them objectionable," said Jameel Jaffer, the Knight Institute's executive director. "Having opened this forum to all comers, the President can't exclude people from it merely because he dislikes what they're saying."
In other political social media news, Conservative Tim Loughton is the UK MP who receives the most abuse on Twitter. The study - conducted by the University of Central Lancashire between 22nd December and 9th May – examined the 681,084 @ messages to politicians, and found the East Worthing and Shoreham MP had received the most abuse. Second on the list was Labour's Chi Onwurah, MP for Newcastle Central. Sadly the study didn't go into the quality of the abuse, which is often of the highest calibre.
Bitcoin hits another high
Another week, another all-time high for Bitcoin. The cryptocurrency hit a record of $2,911 per BTC this week. That price is over $1900 up compared to its value against the dollar at the start of the year. While speaking to people at InfoSec Europe this week, several people suggested that part of this surge in value can be attributed to the recent rise in ransomware headlines and payments.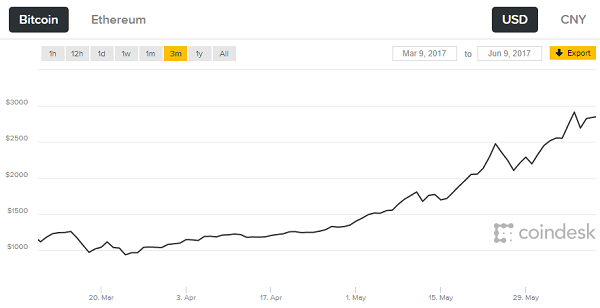 Ice, Ice (Phone) Baby
Despite some nifty features, the Amazon Fire phone was ultimately a flop. But is Amazon plotting a second coming of the device it killed off in 2015? According to Gadgets 360, Amazon will be having another stab at mobiles, but focusing on markets such as India instead of the US, and will keep the device closer to the standard Android experience. The device is currently called 'Ice', probably to prevent Fire phone failure flashback.
In other Amazon news, the company announced a discount to the cost of Prime membership for people receiving government assistance. Membership will cost $5.99 per month compared to the regular $10.99, and be available to people on programs such as Temporary Assistance for Needy Families (TANF), Women, Infants, and Children (WIC), and Supplemental Nutrition Assistance Program (SNAP).
No Robotax
According to a new study from Epson, the majority of manufacturing workers don't think robots will steal their jobs. This is despite pretty much every study you read about automation predicting (or in fact, showing) that automation and robots will and already are putting people out of jobs.
Some suggest Universal Basic Income. Some, such as Bill Gates, suggest a tax on robots to fund UBI initiatives. The EU rejected such a proposal in February, and last week Andrus Ansip, the European Commissioner for the Digital Single Market (DSM) reiterated that rejection. When asked about a robot tax, he replied, "No way. No way."
"The aim of taxation is not just (to) collect revenues … But to increase salaries of teachers and police," he told CNBC. "Taxes are also to have some influence over some processes. I fully agree that we have to tax bad habits, for example, pollution, or smoking, or drinking alcoholic drinks, this I can understand."
IoT burial urns
Security expert Bruce Schneier this week said everything is now a computer, and this apparently now includes our final resting place. We've already seen 'digital gravestones', and now one startup is offering IoT urns. The Bios Incube is a smart pot plant-come-burial-plot designed to house your biodegradable urn, from which the ashes of your loved one grows into a tree. The Incube 'combines the insights of tree growth with data from the soil and its environment and waters it accordingly'.