Handheld Technology
Wearable Tech Show: 'Social' VR network wants to end digital narcissism
Virtual Reality has been picking up steam and as expected, it was a highlight at the Wearable Technology Show in London. There were a number of offerings on the table. Vizuality Studio tells me they differentiate themselves from the likes of HTC Vive because their VR headsets are cable-free. A representative of the studio explains that although they started out with the gaming market in mind, they now see masses of potential in architecture and design. For example, a customer who wants to remodel their kitchen could put on the headset and walk around the 'model kitchen' to get an idea of what it would look like.
Another creative agency, Atticus Digital sees potential in working with holiday companies to provide immersive experiences. I tried out the skiing demo and while it was realistic, it made me feel dizzy after a few minutes and I had to take it off. The potential is there though. Hamamatsu had a headset which could 'control' the race car on a race track just with the power of your mind. It sounds cool in theory but after using it for a while, I wasn't completely convinced my mind was moving the car around the track.
One thing that sprang out was vTime, the 'social' network for Virtual Reality by developers Starship. It is supposed to be the next step up from the social networks we have today. Instead of being restricted to commenting on a friend's Facebook posts and photos, you can now hang out with them in Virtual Reality and travel to exotic places.
In the demo area, I got to try it out. I put on the Samsung Gear headset and was put in a room with three other participants from the Wearable Tech Show. Each of us were avatars and Julian Price, CMO of Starship took us on a virtual tour where we sat around a campfire, saw the Northern Lights and even flew back in a private jet. I couldn't experience the full effect as we didn't have the headphones but I have to say – it was pretty incredible. There were two major highlights: Sitting on the edge of the cliff seeing my legs dangling and the space experience where I witnessed a space shuttle dock.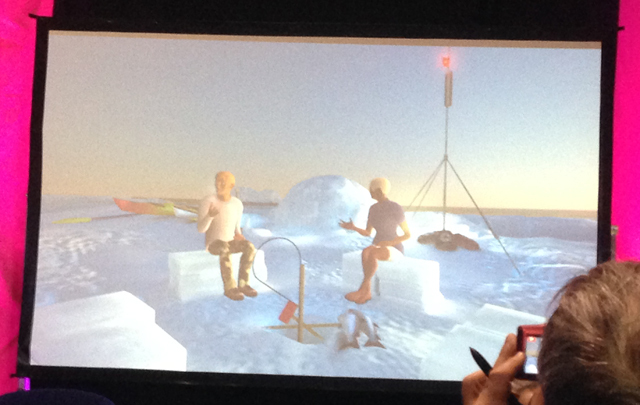 "Today being in Virtual Reality creates a different set-up. Social networks aren't 'sociable' and are quite isolating and it leads to digital narcissism. Virtual Reality is about a world that we all share together," Price told audience members in his presentation later (which was all done in VR by the way).
Price also mentioned nice little touches that have been added to the VR experiences to "create presence" and convince people that they are there. And for Price, VR is not just about gaming or "sensational experiences". It's about simply creating an environment for "people to hop into".
I think the biggest draw for this is being able to share seeing some amazing places with your loved ones, especially in places that many of us will never get to go 'for real' in our lifetimes. Like space for example. But while this may seem fun and exciting at first, will the 'virtual atmosphere' and novelty wear off after a while? We might just want to go back to experiencing warmth, laughter and feeling in the real world.
As for the future?
An audience member asked whether soon we will be able to put our own faces on the avatars. Price said that he is worried about the resemblances leading to uncanny valley. The aim is to eventually create more personalised experiences but the technology still needs to catch up.
Read more:
VR vs. 360-degree video: When YouTube moves immersive to 'live'
Internet TV 2026 report: The 13 things to know
Virtual Reality 2016: Hyped but needing a dose of calm
Beyond marketing & gaming: 6 professional uses for Virtual Reality
Virtual Reality (part 1): Where we stand in 2015
Virtual Reality (part 2): Where is it heading?
An excited IDG Connect team plays with a Cardboard VR headset