Business Management
Columbus: Tech in Overlooked Ohio
Think of the tech scene in the US and the places that immediately spring to mind are probably California, New York, Massachusetts, Washington, Texas and North Carolina. Yet if taking a deeper look into the Midwest, you might have to consider Ohio.

What is so special about Ohio?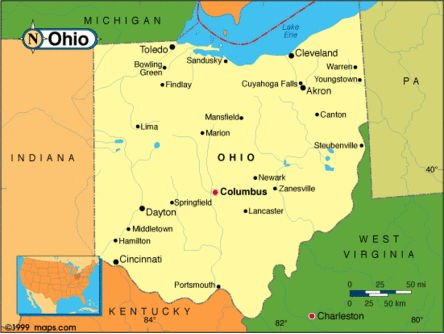 In 2010, Forbes ranked Columbus, Ohio as the number one up-and-coming High Tech city in the United States. And today people on the ground are quick to agree:
Christopher Volpe, Co-Founder and COO of Multivarious Games, a company based in Dublin, a suburb of northwestern Columbus explained: "Columbus is an incredibly technological city. We have a huge infrastructure due to organizations such as Ohio State University, IBM, Battelle, and the US Military, among others."
In fact, it is Battelle, the largest research institute in the state, which helped it receive the Forbes rank four years ago. Since 1929, this non-profit has served the national security, health and life sciences, and energy and environmental industries.
Today, central to the main city's development is: "Columbus 2020, an economic development organization that was formed to generate opportunities for growth in Central Ohio and is achieving success," Theresa Hodgson, Director of Marketing for IT company, Information Control Corporation, told us. "Its goals include adding 150,000 net new jobs by 2020 and a portion of these are in the tech space."
Fundamentally, this seeks to increase competitiveness between the various businesses that are stationed in the Columbus area. And in an interview, Kenny McDonald, CEO of Columbus 2020 highlighted the fact that his group is focused on creating facets of innovation for Columbus businesses and aiming to develop a dynamic economy for central Ohio.
He went on to talk about the rich history of Columbus's general innovation and why that innovation relates to current day success in tech. In the past, this covered fields such as Automotive and Electrical Technology which has had a positive impact on the central state. While now having such advanced materials has established a foundation for more opportunities in the tech scene.
What are the challenges in Ohio?
For this state, things can become quite Columbus-centric, as this is the capital, however, there are a number of activities bubbling up behind the scenes. Ganesh Subramanian, Practice Manager of Digital Transformation for Sogeti USA, specializes in advancing Mobile Tech with the help of developing mobile apps for customers. Based in Hamilton, Ohio, near Cincinnati, he told us:
"I believe one of the challenges Ohio faces is how Ohio overall can embrace technology and run with it. It's also about how one should see something in a new light. There is room for improvement in social media. I also think it's about the culture here in Ohio, how people embrace technology and what they are willing to do with it."
Brad Ashbrook added: "I believe one challenge Ohio faces is how to bring enough talent, and management talent specifically, into the state. Here in Columbus, we have a great workforce and a great culture with humble people. We have had opportunities to bring in workers from Sillicon Valley and Boston to work on tech here in Columbus."
Theresa Hodgson agreed with this: "[One of our challenges] is finding senior level talent with tech expertise. However, one of the opportunities we've created is recruiting young talent from Ohio colleges and universities and then train them."
Of course, this will always be a plus as well as a minus, as Richard Wagner, CEO of Prevedere was keen to point out: "Ohio's diversity of industries and colleges provides us a key advantage. We have the ability to meet with large companies across all industries in just a short drive across town. The other financial advantage is a lower cost of doing business in Ohio as opposed to places like California or New York."

Like most parts of the world, tech offers key employment opportunities and chances to innovate. This is true in the centers that we all hear about, but also in more overlooked regions and states. As Christopher Volpe concluded:
"Ohio's primary challenge is that despite the desire to use technology in novel ways, there is hesitancy to be involved in things that are perceived as 'risky'. [Yet] Ohio is very technology focused, which is excellent. We're willing to utilize tech in new and different ways to try and solve problems."
Steven Vitte has written for his local South-Central Ohio newspaper the Chillicothe Gazette and has contributed his writing to various blogs. Vitte currently runs a blog called the Gaming Journalist Gazette and writes articles that discuss topics related to the Video Game Industry.