Training and Development
SA: A Tech-Centric Drive to Agricultural Development
When the 20-meter Scania truck comes to a halt in rural Mpumalanga, it brings with it resources that foster transformation of the province's smallholder or emerging farming communities. An initiative by non-governmental organization, Mobile Agri Skills Development and Training (MASDT) with the support of the government's Small Enterprise Development Agency (Seda), the Mobile Agri Lab is the country's first mobile agricultural training and testing center.
Hailed as one of the best of its kind on an international scale, the initiative's ultimate goal is to offer South African emerging farmers a practical knowledge of natural resources, teach them focused strategic planning as well as providing comprehensive analysis of the physical, climatic and environmental factors that affect livestock and crops. MASDT currently drives change in four major farming provinces including the Northwest, Mpumalanga, Limpopo and Kwazulu-Natal.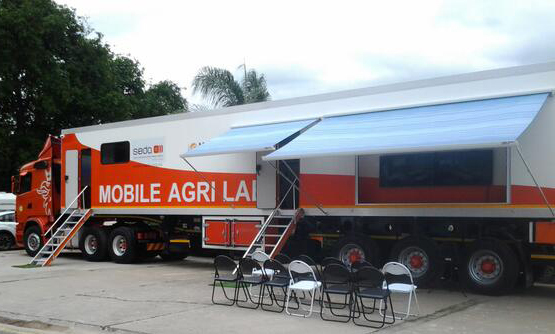 There are about 2.5 million subsistence and emerging farmers in South Africa today, most of whom have little or no access to proper infrastructure, transportation and training support. MASDT's timely operation is a welcome one to a country that has thrived through many challenges to become and remain a net food exporter since the turn of the century. Its self-sufficient agricultural sector is a major asset to the economy, employing about 10% of its overall workforce.
While the agricultural sector's consistency in exports and job creation has been a plausible one, the small numbers of skilled subsistence and emerging farmers remain one of the major threats to the successful implementation of the country's National Development Plan (NDP) or Vision 2030. Land reform policies which shall unquestionably continue to be central to the country's economic debate for some years to come, stipulate the need for the redistribution of land to bolster transformation towards narrowing the economic inequality gap, job creation and food security on a broader scale.
Reaching these milestones without compromising trade and investment opportunities entails a radical approach to skills development and training. MASDT's mobile Further Education and Training (FET) college is playing an important role in this regard. The organization's chairperson Matthews Phosa describes the Agri Lab as "revolutionary cutting-edge technology that will accelerate the growth of emerging farmers to commercial producers. It will ensure a more serious contribution towards agrarian skills."
The solar-powered mobile truck has a custom-built lab, training facilities, high-tech electronic equipment and a support center to provide small, medium and micro farming communities with services essential to their trade. Trainers offer a dynamic range of agricultural skills development ranging from soil and water testing to crop analysis. Google Street View positioning allows trainees to identify and locate problem areas within their farmlands. The mobile lab also boasts world-class equipment that is vital to the performance of infrastructural maintenance and repair. In order to accommodate and facilitate training to large groups of trainees, the Mobile Agri Lab has a couple of High Definition television screens attached to the exterior of the truck offering a view of what goes on inside the unit.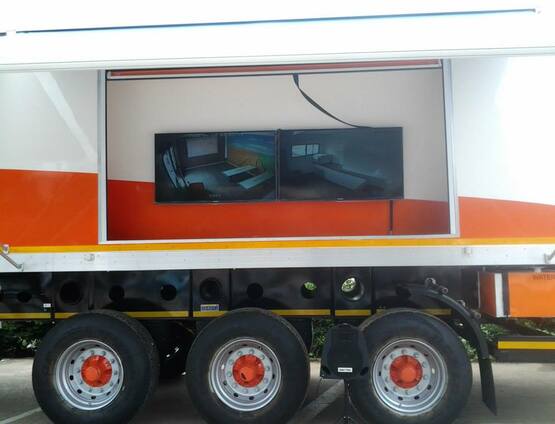 MASDT's Managing Director, Lynette Bezuidenhout says; "We provide mobile agriculture in rural areas, where people have no access to transport, infrastructural facilities or educational services. Our services are offered to any farmer (farming community) with access to land or water rights."
Though focused on emerging farmers, MASDT's innovation does not undervalue commercial producers. With such far-reaching objectives, it also sees partnerships with other farming groups as vital to the nation's agricultural economy and offers services to established agrarian professionals on a cost-recovery basis. Phosa laments the decline of experienced farmers which is broadening the country's skills shortages; "Many African and East European countries continue to lure farmers with extremely lucrative contracts. More worrying is the fact that the average age of our commercial farmers is 62."
In addition to stimulating sustainable development in farming communities, the Mobile Agri Lab skills program is set to encourage the youth of South Africa in considering careers in agriculture, as farming continues to be the sole source of income to several poverty-stricken communities across the country. To advance this cause, the MASDT will be launching a school program which will take the lab to Grade 10, 11 and 12 learners throughout the country, offering agricultural courses. It is hoped that the program will help the youth recognize agri-science as a technologically-challenging and dynamic career path as they approach their tertiary education phase.
Food and water are basic human rights deeply entrenched in Section 27 of the South African Constitution, yet many still struggle to gain access to these vital needs. Criticism around the government's strategies of land redistribution and restitution is inevitable as by its own admission; it faces enormous challenges in implementing these policies.
Although there's been mixed reaction to Finance Minister, Pravin Gordhan's February 26 Budget (Speech) allocation of R7-bn (USD 0.65 bn) to subsistence and emerging farmers' growth; the immediate need for developing and nurturing that sector cannot be ignored. The contribution of innovative technologies the likes of the Mobile Agri Lab are essential to the broader vision of eradicating poverty, ensuring food security and furthering South Africa's economic development.
Sirius Centauri is the founder and MD of Penoptic Press - a South African web development, communications and content company. She shares fresh insights on business, technology, culture and media.