Internet
News Roundup: F8, Hologram politicians, and Apple's cars
A roundup of the week's tech news including Digital tombstones, Google monopolies, and Orange's Alexa.
F8: Facebook gets scary
Facebook held its annual developer conference this week. In it, CEO Mark Zuckerberg talked little about Facebook in its current format – possibly an admission that static social networks have reached their feature peak – but instead outlined his vision for a terrifying future.
Its big play was Virtual Reality social spaces – cleverly called Spaces. You can transport your Nintendo Mii-like avatar into a place where there are other people, and you can chat, share pics, play some basic games, and not much else. Which basically sounds like another awful disconnecting bubble that people should avoid. PC World called it "Sterile and boring... less convenient than a phone and more awkward and stilted than real-life interaction."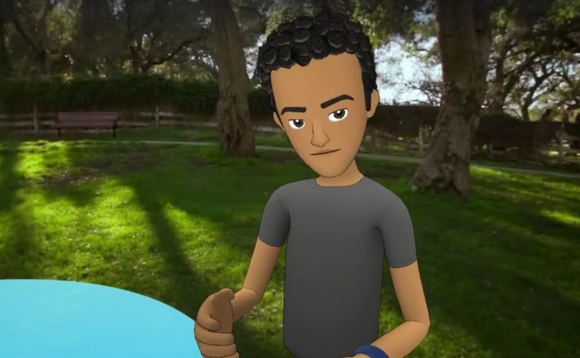 Mind reading. Apparently, that's something Facebook – a company that already has unprecedented access to and information on our lives – wants to get into next. Admittedly for now the plan is only for typing, with Head of R&D Regina Dugan saying the plan over the new few years is to develop tech that can type at 100 words per minute by decoding the neural activity devoted to speech. Dugan promised the project wasn't about "decoding random thoughts", but imagine the value if Zuckerberg & Co. knew what you were thinking, perhaps even before you'd fully realised you were thinking it? Far off speculation perhaps. But scary nonetheless.
AR-future
It wasn't all scary. The company was the latest to come out and say it predicts an augmented glasses-based future. Zuckerberg called AR the next major computing platform and promised his company is working on ways to "mix the physical and digital in whole new ways". The company claimed AR glasses are five years away, but in 20 or 30 years they will have replaced smartphones.
In the usual attempt to copy and kill Snapchat – the latter's new 3D lenses announcement this week probably wasn't a timely coincidence – FB launched AR Studio, a platform that allows developers to incorporate AR tech into their apps. Or just add Snapchat-like filters to photos using FB tech. Bringing AR to the masses, or getting devs hooked to monetize later?
Other bits
Zuckerberg also made a brief concession to the recent killing of a man on Facebook Live and the company's slow response time in taking down the video. "We have a lot more to do here," he said. "Our hearts go out to the family and friends of Robert Godwin Sr., and we have a lot more work and we will keep doing all we can to prevent tragedies like this from happening."
Not forgetting about the Zuckerberg's ambition to get everyone on the planet connected to Facebook the internet, the company detailed new progress with its wireless connectivity projects. FB's ground-to-drone millimetre-wave (MMW) radio technology is now working in tests, and revealed the Tether-tenna – a small helicopter drone that provide instant temporary internet coverage not dissimilar to EE's helikite project.
Facebook announced it was open-sourcing Caffe2, its deep learning framework. FB at Work now has integrations with Box, Microsoft, Dropbox and Quip/Salesforce. The company also outlined plans for a new 360-degree camera rig, but will license the design to commercial entities rather than merely open-source the specifications as it did last year.
Holographic politicians
Although not always on the money with policy, the clever politicians know how to use emerging technologies to get their message across. French presidential candidate Jean-Luc Mélenchon this week appeared at seven rallies simultaneously using 'hologram' technology – actually a computerised smoke and mirrors illusion called Pepper's Ghost and best known for bringing Tupac 'back to life' in concert. Indian Prime Minister Narendra Modi and Turkey's President Recep Tayyip Erdogan have both previously used holograms to remotely appear at meetings. Sounds like a very dystopian dictator propaganda technique, no?
Former HP CEO Carly Fiorina – seemingly unperturbed by her failed bid for the Republican Presidential nomination last year – is rumoured to be making a run for the Senate this year. According to CNN, Fiorina is "strongly considering" taking on Hillary Clinton's presidential running mate Tim Kaine in Virginia next year.
Apple cars and green phones
APPLE FINALLY ADMITTED IT'S WORKING ON DRIVERLESS CARS!!!! Not in so many words, mind. But the Cupertino Company was granted a permit to test autonomous vehicles in California. According to Reuters, the permit allows test drives in three vehicles with six drivers, all driving Lexus cars.
Apple has also announced plans to one day only make phones from recycled materials. As part of its 2017 Environment Responsibility Report, the iPhone manufacturer says it is aiming for "a closed-loop supply chain, where products are built using only renewable resources or recycled material," and is "challenging ourselves to one day end our reliance on mining altogether". An exec for the company, however, admitted to Vice that Apple isn't entirely sure how to get there or when that goal might be achieved.
Apple CEO Tim Cook this week was honoured at the 2017 Free Expression Award for speaking out on social issues such as racial equality, LBGT rights and individual privacy.
"Hopefully more and more people are coming around to the view that a company is not some faceless, shapeless thing that exists apart from society," he said during his acceptance speech. "A company is a collection of human beings and part of the fabric of our society. A company like ours has a culture. It has values. And it has a voice. Apple has spoken out and will continue to speak out for what we believe as a company."
M&A
Microsoft has made a double swoop for Intentional Software and Deis, Oracle has done a double deal for Wercker and Moat, Baidu has acquired computer vision startup xPerception, Stripe has bought the Indie Hackers site, and AMD has snapped up Nitero.
According to the rumour mill, database startup Basho is putting itself up for sale.
Stats & reports
Google vs Russia
The issue of bloatware – apps pre-loaded onto whatever device you buy – has been around for a while. But with Android the problem can become especially thorny. Not only do you get shovelled software from whichever telecom provider you bought the device from as well as the device maker, you also get a host of Google apps on top. 'Wrestling Android away from Google' was part of Cyanogen's raison d'etre.
It seems the Russian government has done what Cyanogen never could, however, after the country's Federal Antimonopoly Service settled a lawsuit with Google to end the latter's monopoly on services in the country. Under the agreement, Google cannot stop smartphone makers from pre-installing competing search engine apps on their devices, and devices in Russia will now receive a prompt asking if they want to change their default browser.
Burger King vs Google
The problem with voice-activated gizmos is that they're not always very clever. Remember when those Aaron Paul Xbox adverts kept turning on people's Xboxes?
The naughty marketers at Burger King used this to their advantage for a new advert. The 15-second Whopper ad ended with the actor saying "Ok Google, what is the Whopper Burger?" which promptly activated any Google device within earshot.
Google quickly remedied the situation so that the ad doesn't get a response from the company's services, and this week also rolled out a new feature that allows Google Home to recognise up to six different people's voices.
Meanwhile, Orange has entered the digital voice assistant game. The Djingo will be able to answer questions, send text messages, place calls, play music and video from Orange's set-top box, and control smart home devices.
Digital graves
You know what don't need digitising? Grave stones. A big hunk of stone with the key details is enough. Friends, family, and Facebook have all the memories and important moments that made up our lives.
But what do I know? Nothing apparently. The Pobrezje cemetery just outside Maribor, Slovenia is testing digital gravestones that are in fact "48-inch interactive screens that can show pictures, video and other digital content."
According to Reuters, these digital graves are "weather-proof and vandal-proof digital tombstones that can interact with visitors." Just wait until they start being hacked
The bots have eyes
There's a lot of negative headlines about robots at the minute. Suspicion about whether or not they're out to steal jobs and destroy the planet is growing. But one company has a novel idea to make robots less imitating to us flesh bags: a tablet for a head with animated eyes. "We wanted people to feel comfortable around Baxter," Rethink Robotics' interface engineer Bruce Blumberg told Quartz.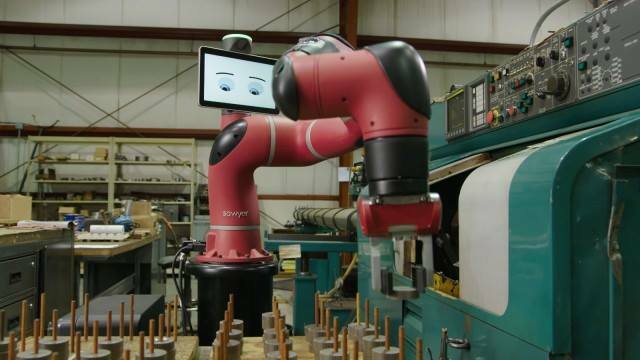 Cow bot
Agricultural technology (aka AgriTech or AgTech) is becoming increasingly big business. But usually the headlines centre on connected cows, crop-dusting drones, or seed planting robots. So here's a video of robotic cow herder. Even sheepdogs aren't safe from automation.