Social Media Marketing
Dan Swinhoe (US)- #Romney vs. #Obama & Big Bird: Social Media in the US Elections
2008 wasn't all that long ago, but in the world of social media an age has passed since then. Widely seen as the first social media election, it was the first time politicians had used the likes of Twitter and Facebook to really communicate with their audience.
It helped get younger people engaged with politics, and it's a safe bet that Obama's win that year was helped by his campaign's activity across the Internet. But this is 2012, and social media is more central to politics and life in general than last time, and Obama won't be getting the lion's share of the internet's voice. Today, every political event creates a social media firestorm and everything said or done reverberates online. The first of this year's presidential debates became the "most tweeted about event in US political history," according to Twitter; and millions more tweets and posts will be generated by the subject both before and after the results are in.
Back in 2008, Obama was followed by 100,000 of Twitter's 1 million users, while his rival John McCain managed just 4,000. BO outnumbered McCain's Facebook supporters three-fold - 2.3 million to 600,000. Fast-forward to today, and the President boasts almost 30 million FB supporters and 20 million Twitter followers, while challenger Mitt Romney has 8 ½ million and just over 1 million respectively. Obama Tweets far more (around 14 times a day) than Romney (around 1 per day), but very few are actually signed 'BO', the sign that the President has actually Tweeted personally. While Romney's online presence is dwarfed by Obama, he has been making rapid gains since becoming the Republican front runner.
In 2008, sites like SocialBakers didn't exist, and real-time barometers that tracked mentions were unheard of. But today they are essential tools for tracking sentiment and general effectiveness of everything the candidates do. By most accounts, things seem very even, although Romney is attracting an average of 100,000 more likes on his posts a day and seems to be getting better engagement than the President. The value politicians are attributing to social media was highlighted by BO's recent Facebook push after his performance in the debates, which resulted in a million extra likes in a single day.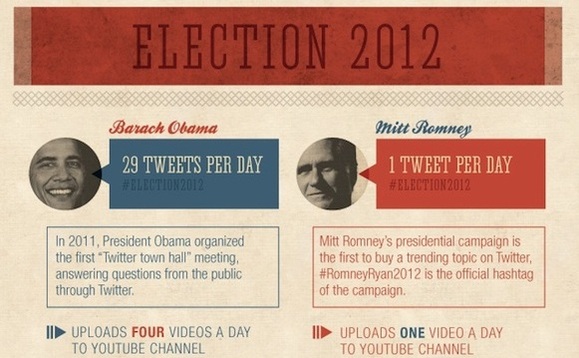 It's not just the internet stats that matter though. It's also a question of culture. Generation Y spend more time on the internet, communicate more across it, and generally hold more stock in it than their older counterparts. The likes of the now-iconic "Hope" poster became popular thanks to social media, so it's no surprise the internet widely approved of BO's Ask Me Anything session on Reddit, and showed the Democrat leader knows how to keep in touch with the young and tech savvy.
On the other hand, Romney's declaration that he would cut the funding of PBS caused the kind of viral response social media managers would die for - it's just a shame that it was all against him. As a generation who invest so much in pop culture, Big Bird has become a sort of internet rallying point against Romney. Twitter parodies and memes may sound like harmless fun, but it is a good indicator of popularity and clearly something that Mitt is lacking with the younger end of the populace, which could harm his election chances. It's no coincidence that major political players on the left, such as Obama and both Bill & Hilary Clinton, get favourable treatment online while Romney is portrayed as rich and un-relatable.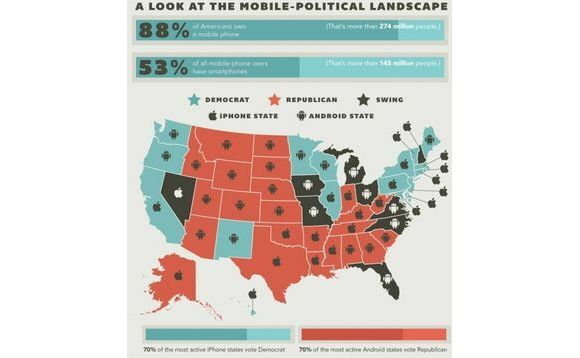 The humble mobile phone still has a part to play in the elections. Both sides are now taking donations via text, while studies show half of 18-24 year olds have discussed politics and the upcoming elections through text messaging. The smartphone boom since the last election means social media plays a bigger role, as do apps and mobile ads. According to Localytics, Democrats prefer the iPhone while Republicans favour Android. Mobile voter registration is now offered in 13 states and has seen hundreds of thousands added to the electoral roll and personally, I feel phone or online voting should be enabled, albeit with strict measures in place. With voter turnout growing ever lower, it may be an effective way of increasing the voter base.
Despite the talk of followers, likes and engagement, the young vote less than the old, and the old use the internet less than the young. So there's no guarantee sentiment will be converted into votes. How effectively the sentiment of the internet has really been channelled will be revealed at the polls.
By Dan Swinhoe, Editorial Assistant, IDG Connect
Image courtesy of openroadsopendreams
How engaged are you with politics on social media? Do you follow Obama or Romney? Let us know below.