Business Management
Angola: The Big Dream of the African Tech Cities 2063
After World War II the British government planned and orchestrated a 'perfect community' called Stevenage, set in rural farmland 30 miles north of London. "Each area had its own small shopping centre with butchers, green grocers, launderettes, news agents and chip shops," wrote Gary Younge in Granta last year. It was colour-coded and designed to promote a sense of community. Each neighbourhood was assigned a specific shade so that you always knew where you were. "In Bedwell, for example, where my mother worked they were blue, in Broadwater, where I grew up [in the 70s], they were brown." It was hoped this would become the model for public housing around the world.
Safe to say it never did, and today, Stevenage epitomises the kind of soulless commuter sprawl which consistently long tails its way out of London. The community dream died a terrible death and it wasn't long before the town gained a reputation as a tough-sort-of-place, which nobody would describe as Utopia... or anything close. Younge summarised the main lesson from all this as, "I don't think the government can create communities. I think only people can create communities."
Stevenage is just one of a long list of housing experiments that have back fired. Each of these projects started with the best, most beautifully reasoned intentions, yet something always seemed to fail along the way. And ultimately it came down to human nature, because whilst you can plan the perfect layout, you can't second guess how people are going to react once they get there. Now 50 years' down the track the dream is a long forgotten memory. Which makes me wonder what the African tech cities will be like by 2063?
The Big Experiment: Tech Cities Emerging Across Sub-Saharan Africa
Of course the tech cities of Africa are very different from the housing experiments of post-war Britain. The latter were born out of a desire to provide cheap state-paid-for housing for a booming population fragmented by war and lacking in space. The new African cities, on the other hand, are privately owned and created as aspirational epicentres for populations striving for commercial success in difficult circumstances. Yet they do have a lot in common…
Both are urban centres tacked on the edge of existing communities as stand-alone entities. Both are very much of their time (there was a big vogue for social housing projects during the 50s and 60s, whilst now the global emphasis is on the tech innovation in its various guises). But ultimately they're both experiments… and nobody knows how these new African cities will turn out.
Today tech cities are a big part of the pan-African agenda – especially in the sub-Saharan portion where GDP growth rates are very high and there is a lot of potential for progress. High profile examples include Konza Tech City, just outside Nairobi in Kenya and Hope City, just outside Accra, in Ghana, both due for completion in 2030. These are ambitious projects and are making a big PR splash, "What is lacking in the African continent is a place where you can have well-designed products, backed with concrete research and proper hardware and software developers to be able to create infrastructure for the telecoms industry," Roland Agambire, whose company has acquired the land where Hope City will be built, told CNN.
Mark Walker, a director at IDC Middle East, Africa and Turkey explained further: "Many African governments are eager to emulate the success of IT hubs such as Dubai's Internet City. When completed, the projects will be similar to other African technology clusters such as Egypt's Smart Village Cairo and Ebene Cyber-City in Mauritius." However, "one challenge lies in the fact that such cities are nothing special any more. There is fierce competition for investment from IT hubs around the world and those that will succeed will be those with specialisations around a key set of skills or technologies."
Yet even without this proviso, before the experiment has even truly begun, sub-Saharan Africa already has its own high profile failure. Chinese-built Nova Cidade de Kilamba in Angola was only completed last year, but nobody moved in.
Nova Cidade de Kilamba: A Big Warning for African Tech Cities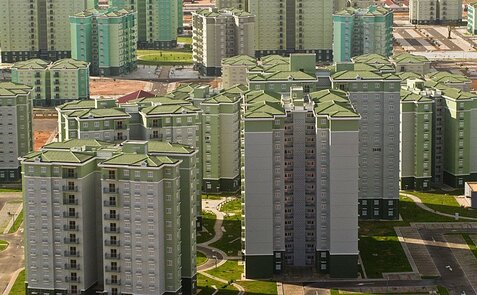 Located not far from the stinking slums of Luanda, Nova Cidade de Kilamba is a shimmering beacon of empty newness, boasting a dozen schools, more than 100 retail units and 750 eight-storey apartment buildings. The problem is these beautifully designed apartments cost between US$120,000 and US$200,000 making them far out of the reach of ordinary Angolans, nearly two thirds of whom live on less than $2 a day.
Angola has a shocking disparity between rich and poor. It is the second highest oil producer in sub-Saharan Africa (and eighth biggest rough diamond producer globally), yet it was decimated by a 27-year civil war. As The Guardian's Baobab columnist explained, after the war ended things didn't improve: "Insiders had come to like the wildly above-average profits they were making and so made sure the trade barriers stayed in place. ... To get fruit to town, lorry drivers and merchants have to negotiate a mesmerising obstacle course of bribe-seeking officials, guards, thugs, policemen and soldiers."
In 2012, the country's nominal GDP rose to $116bn in 2012 (from $11bn in 2002), which is equivalent to the combined market size of four key countries in the region, Cote d'Ivoire, Ghana, Mozambique and Kenya. And Luanda is currently ranked the second most expensive city for expats by HR consultancy Mercer. Perhaps it is little wonder that Nova Cidade de Kilamba has only managed to attract a few thousand of the half million anticipated residents.
The Big Hope Factory: Can the New Cities Thrive
The factors which have resulted in the failure of Nova Cidade de Kilamba are unique to Angola. However, war damage, corruption and extreme economic disparity are problems which are endemic across the continent. This means the problem these tech city experiments could face is that they are ultimately dropped into the landscape without taking full note of local market conditions.
In fact, from the outset many of these initiatives exclude the very people who ought to be involved. As Jane Lumumba, an urban practitioner living and working in Nairobi, Kenya explained to Next Cities: "Many New Cities are being built with input exclusively from architects, engineers and property developers." The urban planners and managers, local governments and citizenry are often not consulted.
In her view, for these cities to work, foreign investors and big companies are banking on two things: "That the economic recession in Europe will spur more 'urban entrepreneurialism' — due to a lack of lucrative opportunities and an already saturated market in Europe, foreign private-sector companies are exercising urban neo-liberalism and place marketing in African cities. [And] that an emerging African middle class will demand (and pay a premium for) high-quality urban space."
The case of African middle class growth is an especially interesting question. Last week Jacques Enadeau wrote a rather brilliant piece entitled 'In Search of the African Middle Class'. In this he directed our attention to the increasing volumes of 'neither rich-nor-poor Africans who "have cellphones and email addresses but many can't afford health insurance. They own a car but sometimes need to save for weeks before getting it fixed. They speak multiple languages but fear they won't be able to pay for their children's education. They want a better life but don't know that it will come to pass."
Throughout the article he posed a series of questions about what the Western assumptions of the blanket term 'middle class' means on the ground in Africa and concluded: "Many more questions like these remain to be asked and so many of those deserve better answers than 'the African middle class' wrapped in a bow and delivered to our doorstep courtesy of norm entrepreneurs and Money Incorporated."
The tech cities will depend on an 'African middle class', but ultimately these will be entrepreneurial workers who combine their own unique cultural framework with a spirit of business opportunism. With this in mind, Konza Tech City in Kenya seems to have a lot of potential because Nairobi (Konza will be located 37 miles away) has been working to establish itself as a tech centre for the last few years. It prides itself on innovation, received the first IBM R&D lab in Africa and is aligning itself on every level with new technology.
Angola: The Big Opportunities in New Technology
In Angola there is everything to play for, and technology, not experiments in tech cities, could well be the key. Things already seem to be progressing: in November the government launched the first phase of the Institute for Information Technology, located in Rangel district, in Luanda. In January Ericsson was selected by Angola's Unitel as key supplier of its next-generation 4G/LTE network and described the potential for business in Angola as "huge". Whilst this month IBM - which places a large emphasis on the African continent - publically announced its commitment to training national personnel in the country.
The existing successes on the African continent have all been about entrepreneurialism, development and finding ways to work with, rather than against, local cultural mores. I certainly hope the tech cities work and bring the all promised jobs development. I just wonder what these much anticipated centres will like by 2063… and how the children who grow up in Konza and Hope will view the experiment.