Social Networks
Why Brazil is Split by the World Cup
"Everywhere has its irremediable national catastrophe, something like a Hiroshima," wrote Brazilian playwright Nelson Rodrigues famously. "Our catastrophe, our Hiroshima, was the defeat to Uruguay in 1950." It all may sound like a massive overstatement, but Brazil has won five World Cups, just-missed one… and the sheer importance of these events seem to be branded deep into the Brazilian psyche.
This could be for any number of reasons. But as Jonathan Wilson argued in the New Statesman recently: Brazil is the fifth largest country on earth - by population and land mass - yet outside football, an annual Carnival and, to a lesser extent, soap operas, it has few big global exports. This means a great deal of National pride is fiercely concentrated onto the beautiful game.
To its credit, football is also extremely democratic. It truly is a game of the people. It does not have the elitism of tennis, silly costume associated with cricket, or the sheer, ridiculous expense of aquatic or equine sports. In fact, the wealth of global football talent really does come out of ordinary people. Many stars were just normal folks, without extensive resources, who were plucked out of African or Brazilian poverty to be world renowned sports stars.
Yet it is precisely because of the notion of equality that Brazil has become split down the middle over the World Cup. The public problems last June for example, began because of an unfair bus fare hike, in the face on incredible government spending on the new football stadium.
The nation may love football, but this was still a step too far. And one comic video, which did the rounds on YouTube at the time, summed the problem up with footage of a student kicking a tear gas bomb, set to commentary from a famous Brazilian goal.
Now the furore in the run up to the world cup has focused on similar themes. "Most Brazilians are divided," explains IT student Gabriel Cogo. "We wanted the World Cup, most of us love football, but the costs are ludicrous."
This is indelibly linked to Brazilian pride. "The expectations are high, but at the same time there is a fear that nothing is going to work," he continues. "For example, a lot of the constructions aren't going to be ready and most of them have larger costs than initially planned. Also, most state capitals that are going to have games have terrible traffic, and nothing has been done to change that."
Social media has been the obvious communication platform for this tension. And numerous pictures and silly skits have been produced and distributed. The pictures below provide a few examples, whilst this (Portuguese language) website provides a tally of government promises against their reality.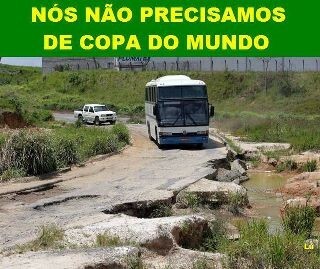 Translation: "We don't need the World Cup"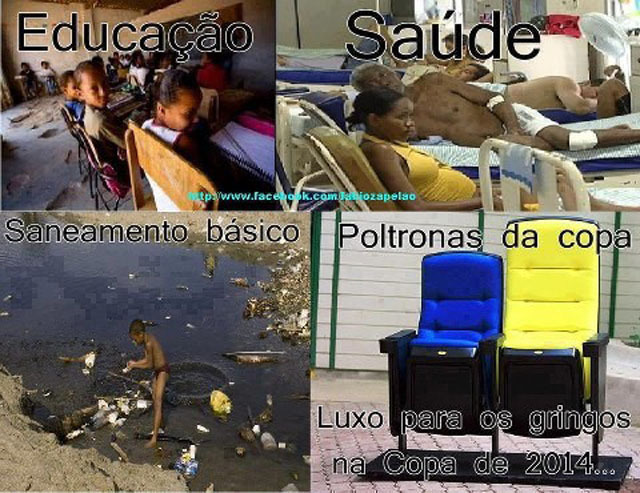 Translation: "Education - Health - Basic Sanitation - Stadium Chairs. Luxury for the foreigners at the World Cup"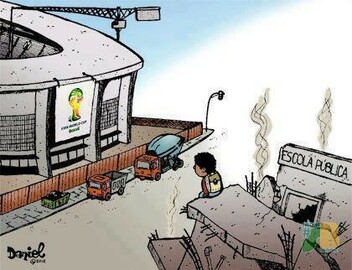 Translation: "a Stadium and a Public School"
But, of course, this mass public scepticism is set against a tide of football frenzy. "Facebook and WhatsApp are flooded with information about the World Cup," says Cogo. "All advertising is focused in the World Cup. For non-soccer-fans, to live in Brazil right now is a nightmare."
"Public media like television [and other mainstream channels] have a lot of investment and [vested] interest in the World Cup, especially from sponsors, so criticism is almost zero," he adds. "They're trying to force an optimism on the Brazilian people."
"On social media [on the other hand] there are lots of campaigns which are trying to use the World Cup to force the government into making changes," he continues. "Most of this is being done via Facebook and other social tools."
The World Cup has also highlighted security issues in Brazilian games. The most graphic accounts have featured toilets being ripped out of their settings [video] to be hurled at rival fans. "This is a recurring problem in Brazil," agrees Cogo. "But this number has significantly decreased since it was prohibited to sell alcohol inside the stadiums."
"By a FIFA request, it will be permitted to sell alcohol during the World Cup," continues Cogo. "That is something of a worry, but security will be far larger during the event [so] I really don't think inside the stadiums it will be a problem."
Cogo does not feel that hooliganism will be rife during the event itself. He believes the World Cup is bringing rival factions together under the wider banner of Brazil. "Well, at least most of them," he quantifies. "I believe that if there are fights and riots, it will be more linked to criminals pretending to be fans than actual football hooligans. That's why my guess is that inside the stadiums shouldn't be any trouble."
Overall though, like the Mafia in Italy, he thinks high end criminals will actually help keep Brazil in check for the duration. "Brazil has organized crime, specially involving drugs. A lot of tourists will come to Brazil and will look for drugs. It's a very profitable business. So they spread the word for common criminals not to scare tourists with common theft or kidnappings. In Rio [especially], criminals that do [frighten tourists] are killed by the drug lords, as they scare customers."
This is a big opportunity for Brazil to prove itself on the world stage, which is precisely why it is getting such a mixed reception from inside the country. "There is a struggle for Brazil to show that it can do things properly," says Cogo, "and to grow out of being a third world country over the next few years. It's not going to be an easy task, but there are many people here who are willing to make the effort. Maybe the World Cup can be the first step in the right way. It's up to us to prove that."
"There is big support for the World Cup as an event," he concludes. "Just not the way it's done. One of the most popular jokes here in Brazil in these times is asking for the "FIFA standard" for hospitals and security." The real truth is: this World Cup is about far more than football for Brazil.
Kathryn Cave is Editor at IDG Connect