Data Center Design
The making of a design-first enterprise IT company
The following is a contributed article by Irene Au, design partner at Khosla Ventures & Satish Ramachandran, head of design and interfaces at datacentre infrastructure company Nutanix
Consumer-facing companies like Google, Apple and Amazon have long invested in human-centred design since their products touch millions of users. More recently, Square, Airbnb, and Uber are a few companies whose thoughtful design propelled them to be market leaders in their respective areas. In the case of Airbnb and Uber, a well-designed experience that led to a thriving marketplace was the innovative offering and the primary value proposition, since they owned none of the underlying assets such as cars and homes.
Increasingly, enterprise and IT companies realise that design can be the differentiator for their businesses as well. These companies are the least likely to have an existing culture of design, because they have historically competed on superior technology or business innovation.
Creating value through design is not an easy pivot to accomplish for most companies.
It's not enough for a company to just hire a lot of designers in order to get design right; a cultural change needs to take place wherein the entire organisation needs to get customer-focused in everything they do. Design is not just a pretty interface that the UI team builds, but something that permeates the company from the very top and informs everything it does, across all functions.
System administrators have long endured some of the industry's most unusable and neglected user interfaces. (Ironically, they've been punished for their technical proficiency!) Nutanix believes that "even" sysadmins deserve well-designed user experiences that allow them to accomplish more in less time.
Nutanix had to overcome many challenges in order to employ design to offer unique value. The leadership team tackled the challenge of shifting the culture to be more design-oriented by treating it like a design problem and taking a systematic and thoughtful approach.
Building alignment across the company
First, the company needed to align around user experience and design. Dheeraj Pandey, the CEO of Nutanix, convinced the leadership team that design was key to providing unique value. Internally and externally through talks, interviews, articles, blogs, and social media, the company championed a "consumer-grade user experience" as a foundation for their offering.
Increasing awareness and empathy among employees
To foster communication amongst employees to rally around design, discussions were held on Yammer. Employees shared positive and negative high impact user experiences through tweets, images, and quotes. The leadership team actively initiated and participated in these discussions, which crucially raised the entire company's awareness and attention on user experience and empathy for their customers. A "Design at Nutanix" session was added to the quarterly new hire boot camp for engineering and product management, as was a hands-on workshop on design thinking. These changes helped instil the company's values and philosophy in the new hires.
Attracting and nurturing design talent
Unlike consumer companies with big brands that more easily attract design talent, Nutanix's design problems are not in a readily relatable domain. This means it competes for designers with companies where designers can touch millions of users with their work. To overcome this hurdle, considerable time was spent with sceptical candidates to help them appreciate the interesting design challenges Nutanix faced and the immense impact they could have. They were convinced they have support in a tech-heavy organisation to be successful.
Not often seen in start-ups, a career ladder was developed for designers, so they could better understand their growth path. A formal designer on boarding program was developed, to ensure designers knew enough about the domain to collaborate effectively with engineers and product managers. Designers rotated across various sub-domains to ensure breadth of knowledge over a period of time, with variety in work to strengthen their skills and experience.
Creating a collaborative design process
In traditional enterprise companies, product managers consider themselves as "owners" of customers and identify user needs and define feature requirements. Nutanix sought to upend this traditional waterfall approach to product development by introducing design sprints as a way to facilitate better collaboration between product management, engineering, and design.
The design sprints gave engineering and design unprecedented opportunity to propose innovative solutions to user problems early enough in the product development process for them to make a significant impact on what was being built. Moreover, because the ideas came from the people responsible for building the solutions, there was greater ownership and buy-in for implementing ideas that potentially required more work, but ultimately benefitted the users. Over time, these design sprints enabled the design team to leapfrog the rest of product development by one release, propelling them into being equal partners at product conception instead of perpetually playing catch-up to already-conceived ideas.
Overcoming user research challenges
Unlike consumer-facing companies where everyone is the target user and participants for user research can easily be recruited through TaskRabbit or Craigslist, enterprise companies require more upfront planning and consideration to recruit participants for user research. Nutanix sought creative solutions to this problem by working with Customer Support, QA, and Sales Engineers as proxies for customers in user testing. Design collaborated with Sales Engineers to identify specific customers who had the greatest needs and interest in particular features to better target participants for user studies.
Championing design to customers
The value Nutanix places on design goes beyond the internal culture and product development practices. At the first annual user conference, a two-day usability testing lab enabled customers to provide feedback on upcoming features. At the second annual user conference, taking place in June 2016, sessions with design leaders and design authors to champion design and design thinking will be held. Simply put, Nutanix believes in investing in design not only because it results in better business, but also because people in this world deserve to have better design in their lives.
Realising the value of design and customer experience
Investment and empowerment of design at the highest level enabled remarkable improvements to the user experience to be realised. At the surface level, the interface was modernised to have a cleaner, flatter look.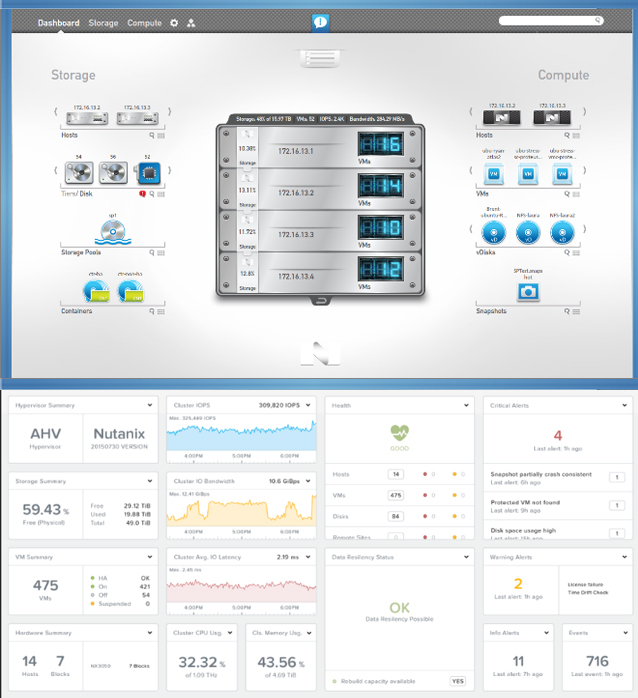 Beyond aesthetics, Nutanix invested in delivering reliable one-click versions of high friction flows such as module upgrades. It also invested in Support to address the totality of the user experience. Furthermore, in contrast to many organisations who try to minimise escalations of support cases, an Escalate button featured prominently in their Customer Support UI. These efforts served to improve the overall customer experience and exemplify how an underlying "customer first" philosophy manifested in the design.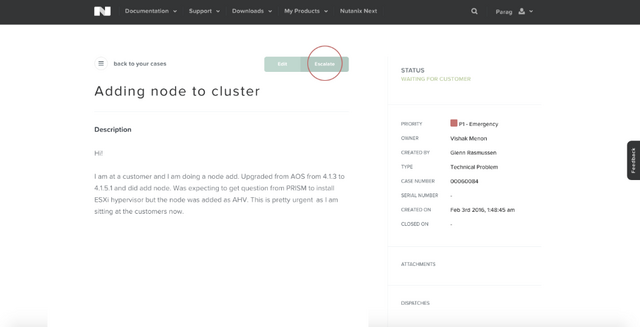 With its focus on design and the entire user experience, Nutanix emerged as the market and vision leader in the converged infrastructure space. Its NetPromoter score, an index of customer loyalty, rose from 73 in 2013 to 92 in 2015.
Looking ahead
Nutanix understands that great design goes beyond what you see or experience on the screen. It embraces the possibility that the most successful offering might be one with a meaningfully minimal UI or no screens at all. A willingness to not be attached to the current successful design and to constantly approach user problems with a beginner's mind promises to perpetuate Nutanix's innovation in their space.