Beginning with the iPhone 8 and iPhone X, Apple has finally added wireless charging to the iPhone. That continues with the iPhone XS and iPhone XR. For years, many Android users have had the ability to simply plop their phone on a pad to juice it up, but to do that with an iPhone used to require a special (and bulky) case.
Wireless charging isn't always a great substitute for plugging in, but it's a very convenient way to keep your phone topped off through most of the day. A wireless charger on your desk means no more plugging and unplugging throughout the day and a full charge when you head home from work. A wireless charger next to your bed makes it easy to grab and go in the morning, or just pick up your phone to "check one thing" without fussing with the lightning cable.
We've tested a big heap of wireless chargers, and these are some of our favorites.
Update 1/23/19: Added our review of the Boost Up Special Edition Wireless Charging Dock for iPhone + Apple Watch.
The best wireless chargers
Wireless chargers tend to come in two variants: stands and pads. A pad is great for your bed-side table or lying inconspicuously on your desk, but there are times when a stand makes more sense. In particular, they're useful for those with an iPhone X, as a good stand with a steep angle will point your phone and your face enough for Face ID to work. This makes it a lot easier to unlock your phone to quickly check something without taking it off the charger.
Stands are great for reading your phone while it charges, but sometimes you want it to lie flat. It's less conspicuous on your desk or bedside table, and easier to just plop it down in any direction. Wireless charging pads tend to be a little less expensive than stands, too.
Other wireless chargers tested
While these other chargers weren't our favorites, they may suit your own needs. There are only so many different ways you can wrap a copper coil in a hunk of plastic, so it's safe to say that your own personal sense of style and pricing sensitivity might a different charger the right choice for you.
Are you interested in a charger you don't see listed here? That's not surprising—while we try to cover the most popular brands, there are literally hundreds of wireless chargers on the market. We can still help make sure you get a product you're happy with, though. The next page contains some helpful general advice to consider when deciding which wireless charger to buy.
Qi vs. PMA
There are two major standards for wireless charging: PMA (Power Matters Alliance) and Qi (pronounced "chee"). If you see a charger that only supports PMA, keep moving. The new iPhones only support Qi.
Fortunately, Qi is by far the most common standard for consumers, so you shouldn't have much trouble finding a compatible charger. What's more, every Qi compatible charger should work just fine with the iPhone 8, 8 Plus, and X, even if it doesn't specifically list support for them on its packaging or marketing materials. 
5W vs. 7.5W performance
The new iPhones shipped with initial wireless charging limited to just 5 watts. That's pretty slow, but then again, the in-box power adapter is also only 5 watts. So wireless charging really isn't any slower than the (admittedly pitiful) power adapter that comes in the box.
The iOS 11.2 update increased the maximum wireless charging speed to 7.5 watts. That's 50 percent faster, but charging speeds vary, and they slow down a lot as the battery gets full. Still, if you want the best performance in a wireless charger, look for one that can support 7.5 watts or more.
Some pads support faster charging speeds only on some Android phones, but are limited to 5 watts on iPhones.
For pads that don't come with fast-charging adapters, you'll want to look at the store pages to see what is required to enable higher-speed charging. Some enable faster charging only when using an adapter with Qualcomm's Quick Charge technology, some work with any high-wattage USB power adapter (like the iPad adapter Apple sells). See what is required before buying a new adapter.
Flat or standing?
You'll see two types of wireless chargers on the market: flat pads, and angled stands. A flat pad is simple and easy, but you might want to consider a stand. With a stand it's a lot easier to use your phone while it's charging up.
And with the iPhone X, a standing charger makes it easy to unlock your phone with Face ID without picking it up.
Portrait and landscape orientation
If you get a stand instead of a flat charger, you'd be wise to make sure it's made to work with your phone in both landscape and portrait orientation.
Most of the time, you'll plop down your phone standing upright. And Face ID on the iPhone X only works when the phone is upright, too.
But a charger that works well with your phone in landscape mode makes it easy to play certain games, and of course watch videos, without taking your phone away from those precious free electrons.
Case concerns
If you keep a case on your phone, you shouldn't worry too much about whether it will work with a wireless charging pad or stand. The vast majority of cases will work just fine.
There are three types of cases that can pose problems, however:
The first is a case with a metal back (or a battery case). That Betteck battery case ($33.99 at Amazon) may seem attractive with its extra 5,200 mAh of extra juice, but it won't work with wireless chargers.
The second is a wallet case. A particularly thin one like this Silk iPhone X Wallet Case ($24.99 at Amazon) might actually work, but electromagnetic induction and credit card stripes just don't mix. If you don't want to screw up your cards, don't put them between your phone and a wireless charging stand.
The third is especially thick cases. Most chargers will work fine on any case up to 3mm thick, and some can go through a 5mm case with ease. But maybe you're a demolition derby racer and also work construction plus you're a rodeo clown on the weekends. Maybe you have an extra-rugged case. If so, it's probably too thick to get a wireless charge going, even if it doesn't have a metal back (as many extra-rugged cases do).
Wait for AirPower?
Of course, if you bristle at the idea of buying non-Apple stuff, you can just wait for the AirPower wireless charging pad.
Apple's pad uses Qi charging together with its own custom extensions that let it charge several different devices at once, along with reporting charge levels. You can charge your iPhone, Apple Watch Series 3, and AirPods (you'll have to get a new wireless-enabled charging case) all at the same time!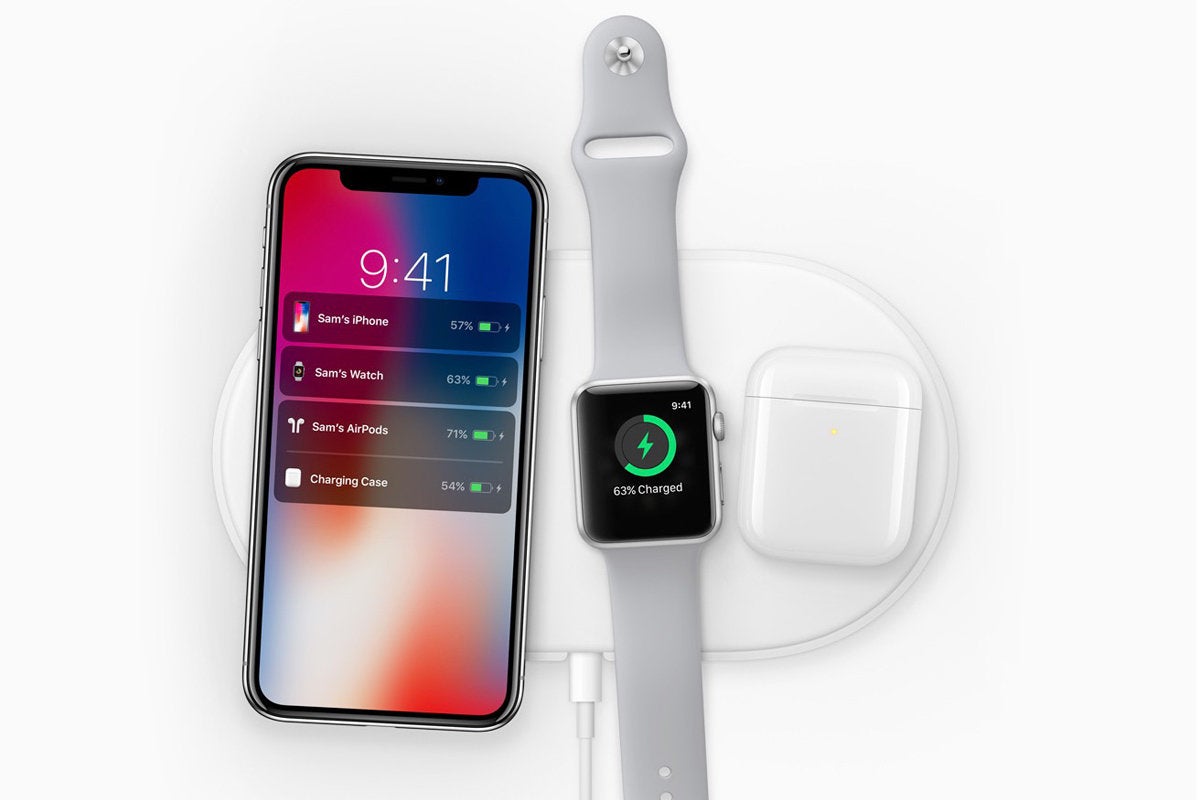 Unfortunately, Apple has not yet revealed the price nor release date for the AirPower pad nor the wireless case for AirPods. Both are coming in 2018, and that's all we know.