Dell Technologies has plans to clock USD 70 billion in the near future, says Joyce Mullen, president, global channel, OEM and IoT solutions. 
With USD 50 bn channel sales locked in last year for the company, the additional number does not look too far, especially with the partner momentum, and market uptake to Dell Technologies.
The Global Partner Summit at Dell Technologies World (DTW) was attended by more than 4,000 channel partners from across the globe. At the summit, new developments about the partner program and channel enablement initiatives were announced by Mullen.
Cheryl Cook, senior vice president, global partner marketing at Dell Technologies also joined Mullen with announcements about the Dell Technologies partner program. 
For the global channel round table, Mullen was joined by Anwar Dahab, senior vice president, Channel EMEA, and Tian Beng, senior vice president and general manager - Channels, APJ.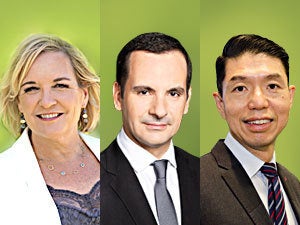 Mullen said, "Dell's partner team is firing from the growth rate perspective, and the size of business is growing faster than core business. We have more opportunities for us and our partners in the three trillion dollar market we play in as we have touched 50 billion in channel sales last year. "
Also Read: Dell Technologies is the North Star for channel business: Joyce Mullen
The last year investment has helped yield good growth - backed by a pretty solid strategy and portfolio, according to Mullen.
"Our customers say that they don't have a choice but to transform by using data efficiently. Having an agile and scalable IT infrastructure for modern world is very important. And we clearly see growth over the next decade. We have advantage over our competition because of our great leadership, portfolio breadth and well etched strategy," says Mullen.
When customers face complexity - be it more flash, servers or different kinds of clouds, they will depend more on channel partners as trusted advisors to solve their business challenges, according to her.
"Our portfolio breadth is a huge advantage for channel partners to emerge as trusted 'end-to-end' solution provider to customers and their digital transformation journey. With simplified supply chain and increased focus on upgrading channels' skillsets for newer technologies, we believe our partner strategy is different and importantly better than competition," says Mullen.
Must Read: What Michael Dell thinks about HPE's multi-cloud strategy?
Change of Name     
Trust was a core discussion topic at Global Partner Summit - Mullen spoke about their team spending a lot of time on trust with partners to help improve profitability, have clear rules of engagement and other attributes in the preferred program. 
Dell EMC partner program was changed to Dell Technologies partner program at DTW 2019.  
The rebranded partner program intends to help partners transact more, apply for certifications (For example, certifications across VMware and Dell Technologies) and utilize MDFs across the seven companies of Dell Technologies' family.
IDG India asked Mullen if the new program might add to confusion and possible hiccups amongst its large army of channels. She replied, "We expect no hiccups with the program as it's a well etched plan based on partner feedback and market direction. The program is well defined in terms of marketing, operations, trainings, incentives and other parameters."
Partners buying from one business of family can add credits to the overall program, and we have legal agreements in place to allow EMC select or SMP  - with all purchases to be credited, according to her.
For strategic business products and solutions, for example, we have added new solutions in SecureWorks wherein gold and authorized partners with security capabilities will have new business under the program. Dell Technologies partner program will take a while to chart a great path - with some heavy lift from our channels' team with partners, but no hiccups whatsoever," says Mullen.
Beng says, there are partners who have done VMware training and then they have to do training on other families of Dell Technologies' solutions. The new program will help unify the training and certification activities to the maximum.
In APJ, the only difference from global trends is the mix of mature and emerging countries from digital transformation technologies and its adoption, and hence strategy differs a bit, according to Beng.
Dahab says, "We see consistent growth in channel route mainly in mature countries like UK, and most of Europe. The UK was the strongest market and it kept growing last year. Dell Technologies gained share across all lines of business including storage, client, and servers in EMEA. We are investing in distribution coverage and adding more skillsets." 
And the new program provides simplified engagement for partners to cross-sell and procure products and solutions across the Dell Technologies family of brands, he adds. 
Ready for cloud 
IDG India asked the trio of channel chiefs if channel partners are ready for the cloud wave, with new announcements of Dell Technologies Cloud, VMware cloud on Dell EMC Infra and Azure on VMware and Dell ? 
Mullen says, "It's no longer a fight between on prem and off prem amongst the cloud providers as hybrid IT continues to be a reality. It will be multi cloud and it is easy for customers and partners as there is a realization that there will be a lot of clouds. We have the responsibility and obligation towards customers to choose the cloud they want and not force them to choose a side (cloud provider)."
VMware is a leader with respect to virtualization market share, Azure is growing fast and Dell Technologies a leader in IT infra. Hence the trio of VMware, Azure and Dell Technologies is a sure winning proposition for our channel partners, says Beng. 
Dahab says, "Channels now have a good play with VMware workspace for end customers through rebates as we win together, and also seamless integration of cloud from client side for end-to-end."
Beng said, "After speaking to many partners in APJ, the most mature ones continue to be Singapore, Korea and Japan as they are most advanced and heavily involved with cloud.
"Lot of partners are engaged with hybrid solutions and it opens up good opportunities as many partners' work with Microsoft, VMware and Dell."
Hence, we hear lot of positive sentiment with this alliance. We see on the end user and customer side that there is a reverse migration from all public to private cloud as there are some concerns to go all public," he explains. 
From security perspective, migration from legacy, app development; channels have big role to play with deployments around public as well as hybrid cloud. 
"They can design and implement hybrid multi-cloud roadmap with our extensive cloud portfolio and robust alliances with cloud OEMs as VAR or CSP for organizations," he adds. 
Dell Technologies had a terrific last year, adding over USD 11 billion dollars to its top line and it worked beyond market expectation, says Dahab.
He also adds that three years ago, many industry folks said that Dell buying EMC will not work, but we have had great synergy within our teams, and externally with our channels and their customers. And this is just the beginning. 
Dell has over 1400 metal partners and 3200 active partners in EMEA. It's a long tail which includes specialized partners working with architects on IoT for example, or service providers on cloud, says Dahab. 
Distribution is growing at a fast pace and our channels are growing too, adds Tian. The distribution mix is larger as we are growing our distributors' channels multiple times by adding more resellers in countries like India and Australia.
He explains that the company is increasing reseller base for authorized and gold partners, especially in storage - with lot of programs through distributors to help them recruit net new resellers and reactivate exiting ones.
Beng says, "We see uptake from transaction side of business including laptops and desktops. And then, partners implement vertical based solutions because of the breadth of portfolio from pure transaction to solutions based projects."
Partners are becoming more solution focused with new competency and training like Dell Technologies Cloud Badge. IoT is another solution from that is seeing an uptake amongst partners, says Beng. Mullen agrees," We have to attract more partners with specialty in construction or surveillance as lines between IT and OT are blurring at the customer end."
Mullen said, "One of the agenda for next year is to make sure we drive the right incentives for the channels. VMware and our program make it one plus one equals three that will be the FY 21 program.
"The deal for VMware and Dell is registered manually today, however, it will eventually be an automated process in future to make it a single contract for us and our channels."
Dell Technologies partner program will emerge as a big differentiator versus competition as it will definitely burgeon channels' business, adds Mullen. 
7 Salient Benefits of Dell Technologies Partner Program
Simplified engagement for partners to cross-sell & procure solutions across Dell Technologies family.
Other Dell businesses to count towards revenue & tier status for Dell EMC partners.
New solution badges & competencies like Dell Technologies Cloud Platform & Dell Technologies VDI.
Recognize related certifications earned from strategically aligned businesses that support its joint solutions.
New integrated solutions like Dell Technologies Cloud & Dell Technologies Unified Workspace
Individual partner program remain - including no change to Dell EMC tiering status
Reinforced the value of financial services offerings, including Flex on Demand extended to VxRail & VxRack.