New IDG Connect research provides the foundation for these community sites, which feature an integral infographic summary of the results and regular blog discussions on the findings. These also host your videos and white papers along with regular polls and social media feeds to maximize user interaction.
The Connect Zone combines the most compelling media tools available to give your customers a fully personalized content experience, including: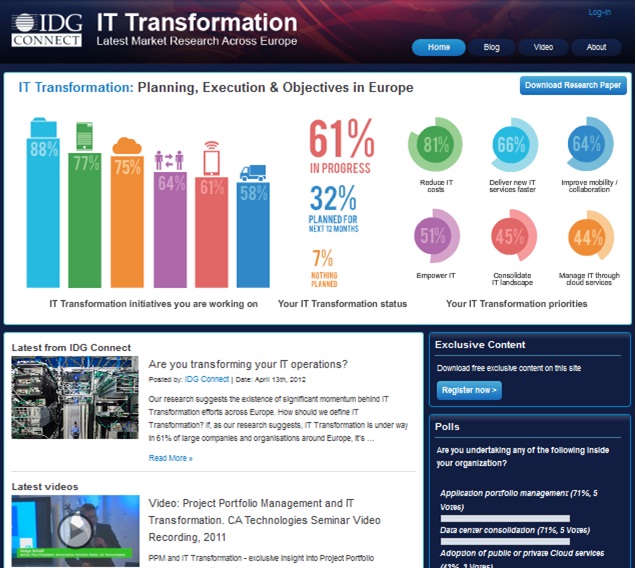 New customized research
Ability to target multiple countries
Dynamic, impactful graphics
Custom research results
Blog content
Online polls
Video
User-generated content
Links to Twitter/Facebook feeds
Regional Focus for Local Content
The Connect Zone provides an extremely effective way of creating localized sites for individual, or multiple countries, focusing on pertinent issues. Based on research that addresses country-specific market conditions, the approach has been proven to dramatically increase the impact on visitors and their engagement with sites, and strengthen the sales lead pipeline.
Dynamic Content, Focused Analytics
IDG Connect provides a complete design, build and hosting service for the Connect Zone, as well as creating and updating content to ensure it stays fresh and dynamic.
Our service also includes an analytic report of traffic to the site. We use a unique 'heat map' that identifies pages read, counts downloads and tracks dwell time.
This information can be used to further enhance and develop content, as well as identify 'hot topics' among your target markets.
Driving Sales through Mails
Each Connect Zone benefits from a promotions program that drives traffic through a campaign of targeted emails to our database. This is supported with online advertising through our partner network.
The sites also utilize username and password registration that collect key business details about each visitor. This information is captured whenever the user downloads a document or watches a video, giving a unique and accurate insight into their interests.
With this information you can build targeted campaigns and market to an audience of one creating a powerful relationship with the customer.