Ignite is IDG Connect's unique lead nurturing service, designed to help your outbound digital marketing create the maximum impact on your target prospects through three key stages:
Assessing content to see how each piece maps within the buying cycle
Tailoring messages to recipients' specific status in the buying cycle
Delivering sequential content based on the relationship between assets
Analyzing responses to maximize return on investment
Providing qualified sales-ready leads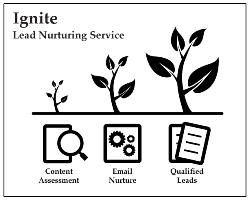 Ignite is created to make the most effective possible use of target databases. It can be used with a combination of your existing data and IDG's own Lead Generation database, which gives access to over 44 million global business professionals around the world.
Mapping to the Buying Cycle
All lead nurturing campaigns begin with a unique content assessment process called Market Fusion. This addresses how your content maps against the buying cycle, and how each individual asset fits sequentially into the sales journey. Through doing this it also reveals gaps in the content suite and suggests how existing information can be repurposed or new content created.
This highly scientific process has been designed following extensive research by IDG Connect, which identified that tailoring the message, tone, content and format of each piece of collateral to match the readers' needs at their specific stage of the buying cycle, offers dramatic rewards:
Purchase likelihood improved by 25%
Sales cycle shortened
Engagement increased by 500%
Content creation costs reduced
Gaps in content identified and solutions proposed
Tailored Messages
Once the content has been mapped, IDG Connect's editorial staff then create email copy to promote each piece and lead prospective customers through the sales journey.
Our content team will ensure that the email copy reflects your messages strongly, while also appealing to the concerns of the potential customers.
Targeted Emailing
The mailing program is conducted over a designated period that is structured to ensure the delivery of timely, related content. This process ensures messaging correlates not just to each stage of the cycle, but also to the specific interest level of the recipient.
Detailed Analytics
At each stage of the process, recipient reaction is analyzed and scored to identify where emails are read, together with the degree of engagement and ongoing interaction.
Only those recipients that express interest in a mailer will be targeted to receive the next one, thus ensuring that the content is relevant, related and your potential audience is not overloaded with promotions.
This information is also fed back into the dataset so it is continually refined and enriched to ensure that only those who are actively in the market receive mailers, thus raising the level of interest and likely response levels.
Conclusive Results
A recent IDG Connect campaign for a major software vendor generated over 4,000 scored leads in eight weeks, and delivered a 1,218% return on investment.